Spotify 4Q'22 Earnings Update
Disclosure: I own shares of Spotify
we're in a better position competitively than we've been in many, many years. For throughout the existence of Spotify, we have always heard of competitors, and it was always the sort of big scary wolf, whether it was Apple or Amazon in the past, et cetera. Now it's perhaps YouTube and TikTok, etc
-Daniel Ek (4Q'22 earnings call)
Users
MAU experienced acceleration in growth with highest ever net add of 33 mn QoQ, ~10 mn ahead of guidance.
Premium subscribers as % of MAU continues to decline as much of the MAU growth is coming from Rest of the World (RoW) where appetite for premium is weaker. YoY churn was consistent and didn't have any uptick.


Premium Mix
Good to see some acceleration in Premium segment in Europe with ~4 mn net add. Other geographies added ~2 mn each.
given the outperformance in MAU this year, that's always a good harbinger for sub growth in the future.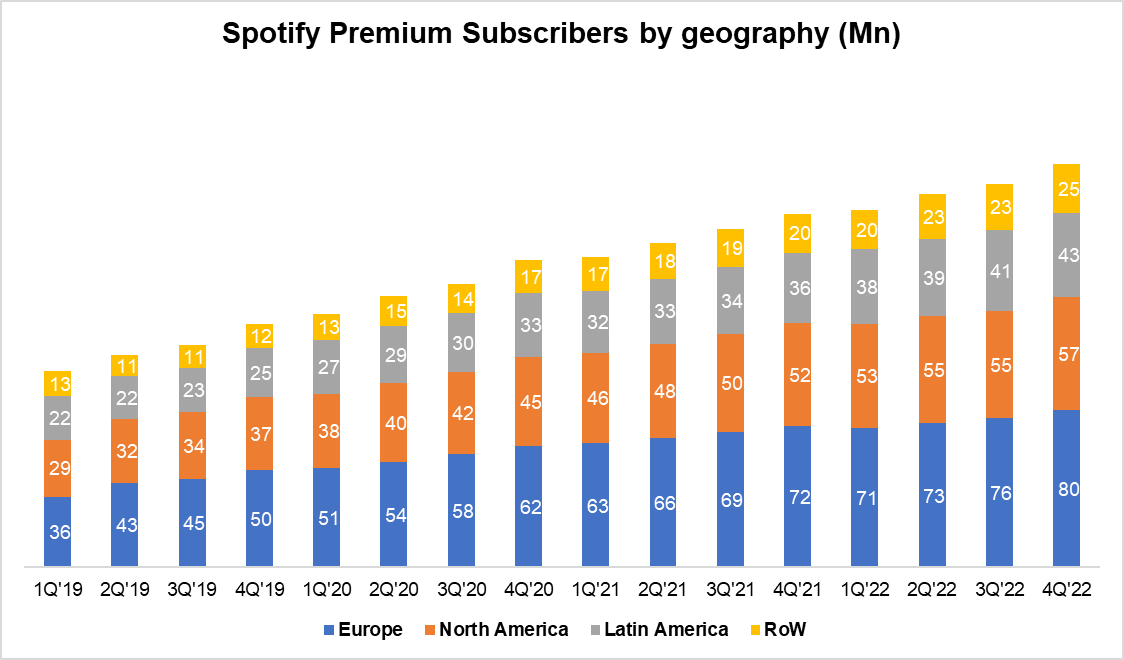 Netflix vs Spotify
This is something I track every quarter. Spotify clearly is yet to exhibit signs of growth exhaustion, especially since growth accelerated in last quarter.
I should mention that definition of subscriber of NFLX and SPOT is not apple-to-apple, so I would caution not to infer more than what this data can tell us.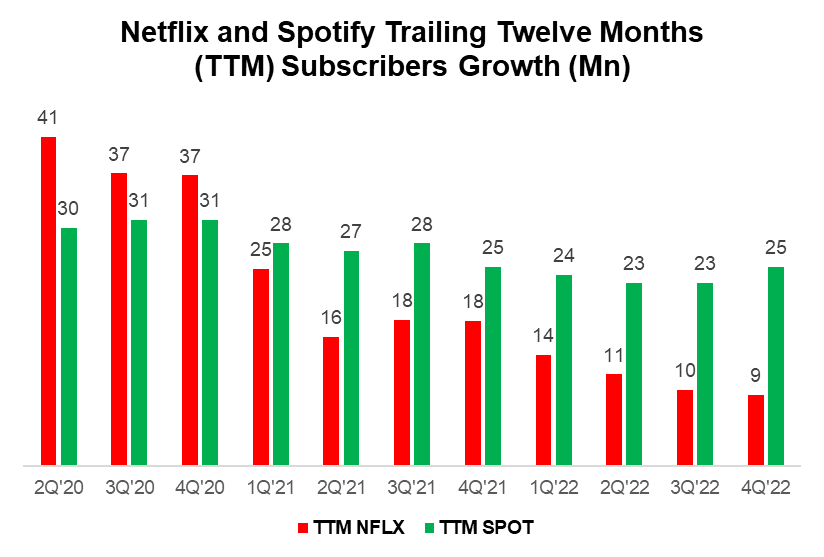 Revenue
After growing 5 consecutive quarters at >20%, Premium revenue increased below 20% last quarter. ARPU also slightly declined QoQ after increasing for 6 consecutive quarters.
Ads momentum also slowed considerably. Ads as % of total revenue was 14.2% in 4Q'22 (vs 14.7% in 4Q'21).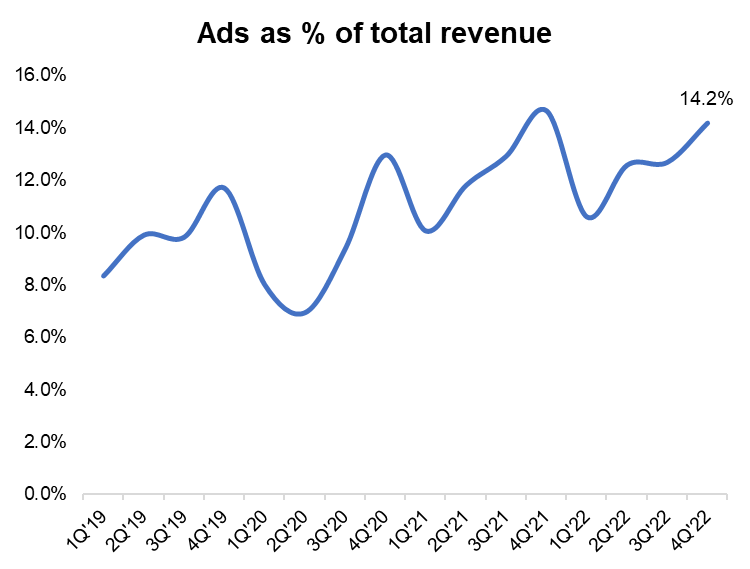 Price increase?
in 2022, we increased our price point in more than 40 markets around the world. So it's definitely something that we're doing, and we're looking at it as a balanced portfolio approach where in some markets, we're selectively increasing prices because we're in a more mature place. In some markets, we're mostly focused on growth.
Gross margin (GM)
After reporting almost breakeven gross margin for ad-supported segment in the first 3 quarters, Q4 GM for ad segment improved to ~5%, thanks to lower podcast spend. Both Music GM and overall GM improved by ~60 bps QoQ.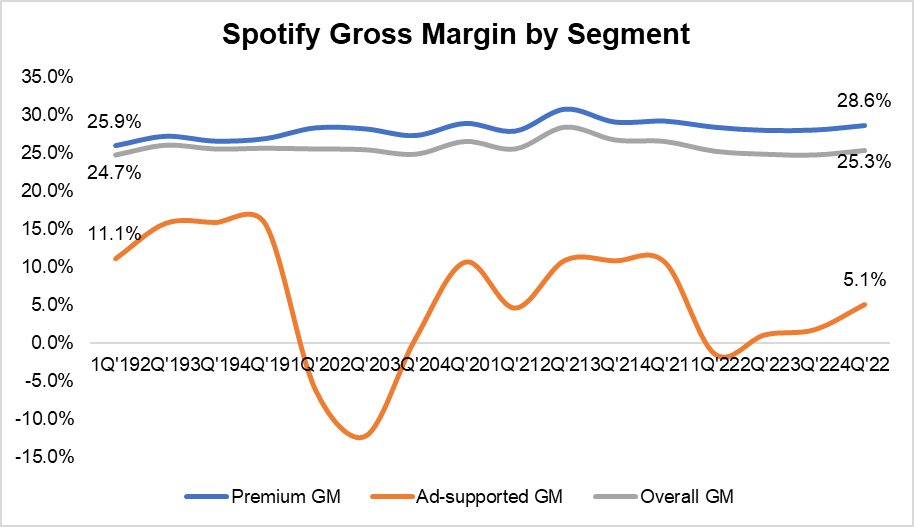 Spotify expects Q1 GM to be the low point for '23 and then to improve throughout the year:
Q1 will be the low point in terms of gross margin for the year, with gross margin improving throughout 2023. So that's still the plan. When we look at Q1, in particular, sort of our core margin, when we look at sort of music and podcasting is improving. Some of the investments we made in the back half of the year are still slightly impacting Q1.
Marketplace revenue was >200 mn (>30% YoY) in 2022 which must have helped GM; management reiterated  ~30% consolidated GM in 5 years and "podcast reaching breakeven within several years".
Opex
Just like most tech companies, Spotify's opex continued to move in the wrong direction. As they're grappling with their investments in podcast and other areas, opex as % of revenue increased from mid-20s in 2021 to ~30-33% in last three quarters.
Rapid pace of hiring as well as a steep ~€400k opex per employee (salary is probably ~60-70% of Opex, so ~€250-300k per employee) was the reason for opex bloat. Spotify laid off ~6% of workforce recently.

SBC as % of gross profit used to be MSD-HSD in 2019-2021, but increased to mid-teen level in 2022. As I discussed before, SBC as % of revenue can be misleading during period of massive stock price volatility.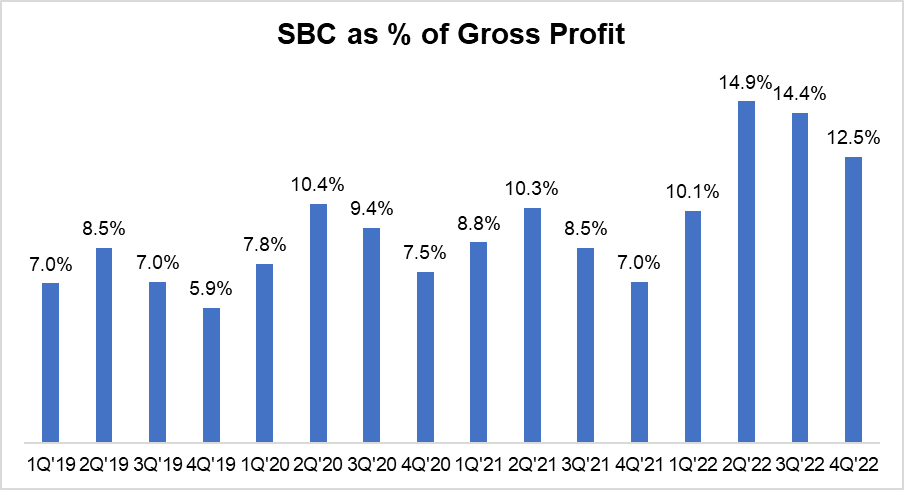 So, I looked into how many stocks/options Spotify granted to its employees. Number of shares+options that Spotify granted to its employees in 2022 was almost equivalent to the total of 2019-2021!
Of the 10.2 mn grant, 7.8 mn was options with exercise price of ~$152, ~40% higher than current price. If all the grants could be exercised, that's ~5% dilution (vs ~1.5% in 2021). At least, Spotify is smart enough to issue mostly options, not just RSUs.
As of 3Q'22, Spotify had 3 mn RSU outstanding with ~$152 avg grant price and 15 mn options outstanding with ~$174 exercise price.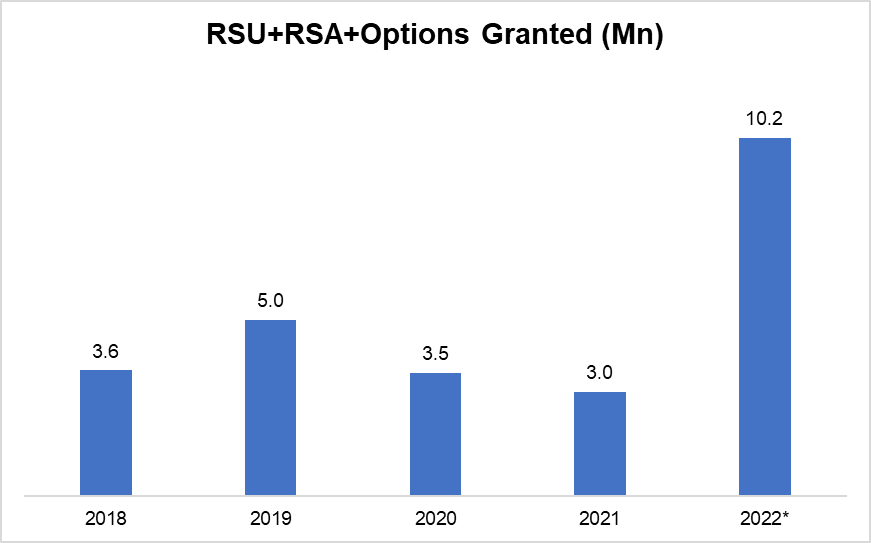 Outlook for 1Q'23

You can read my Spotify Deep Dive (December, 2021) here
I will cover Meta's earnings tomorrow!