Spotify 2Q'23 Earnings Update
Disclosure: I own shares of Spotify
Spotify stock has been one of the "winners" in 2023. A week ago, its YTD was +130%. With Generative AI, price increases, and potential margin improvement speculations, the stock crumbled after today's earnings as it mostly appears to be  very much "work-in-progress" story, and there's not quite inflection point in sight, yet!
Here are my highlights from today's earnings.
Users
Spotify does seem to be hitting on the next gear when it comes to adding users. While Premium net add is quite robust, it is the total MAU (including ad-based segment) that added a record 36 mn users in the last quarter.

Premium Mix
North America and Europe continue to lead Premium subscriber net add growth with 3 mn and 4 mn respectively. Rest of the World (ROW) still seems quite sluggish in converting to premium product; hence, premium as % of total MAU continues to go down.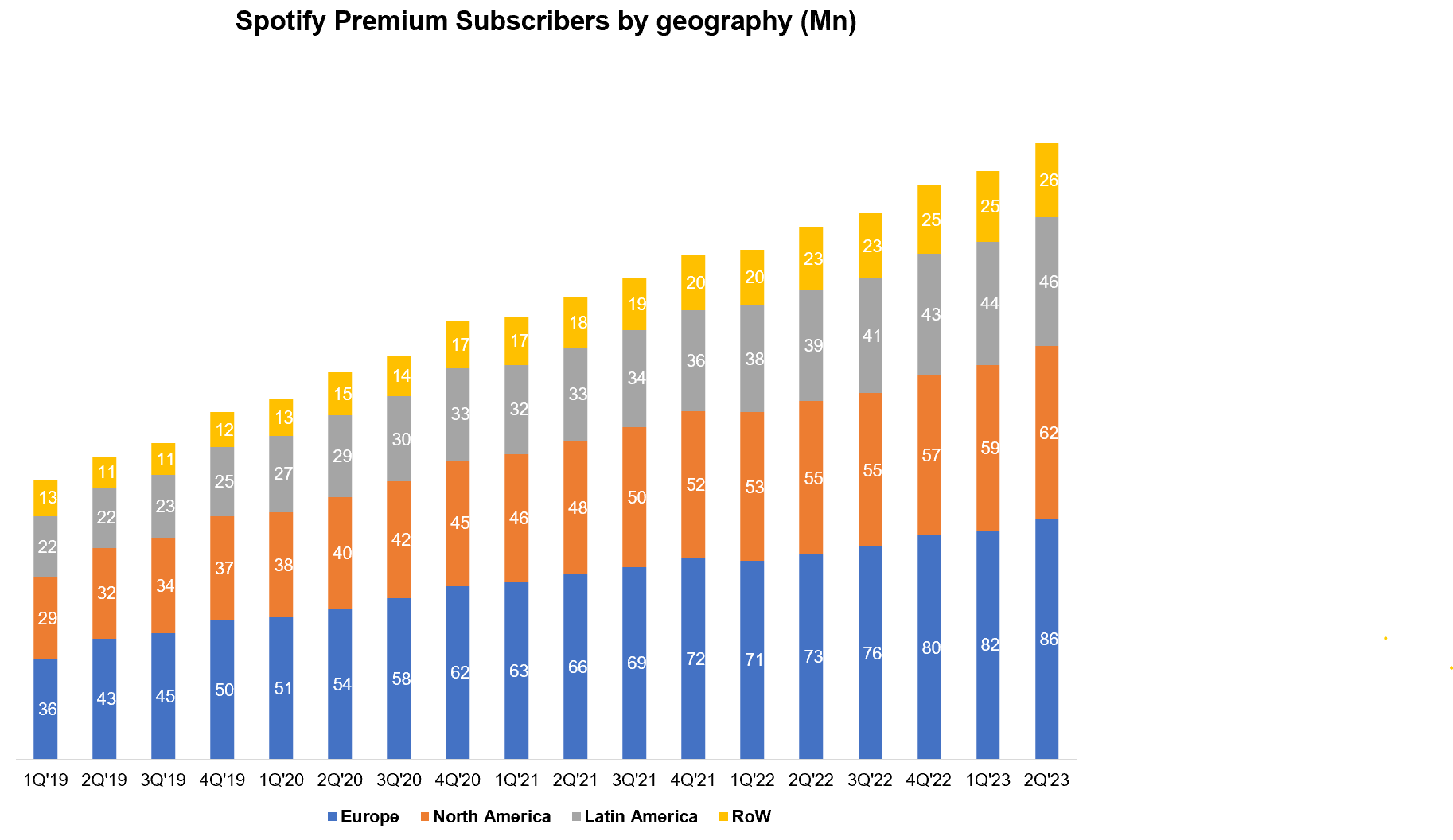 Netflix vs Spotify
I mention this chart every quarter; it is evident that Spotify's subscriber growth is reaccelerating. The difference between Spotify and Netflix's net subscriber adds has narrowed a little since Netflix also accelerated in the last quarter.
Revenue
On constant currency basis, topline was +14%, Premium segment revenue was +14% and ad revenue +15%.
ARPU continues to decline for three consecutive quarters.
Podcast ad revenue was +30% while music related ad revenue grew by mid single digit %.
ARPU
The recent price increases will probably put an end to QoQ ARPU decline for the next two-three quarters:
Yesterday, we announced broad price increases across more than 50 markets, including most of Europe and North America…And while this won't impact revenue per user much up until the end of Q3, we expect it to have a meaningful impact on Q4 and beyond.
The price increases are the most significant in Spotify's history. Here's how much price is being increased for different products in the US:
Student +20%, Individual +10%, Duo +15%, Family +6%
Gross margin (GM)
Reported GM was 24.1% and adjusted GM was 25.5%. What are these adjustments?
In the quarter, we took steps to shrink our real estate footprint and rationalize certain areas of our podcasting business. We also exited our Soundtrap marketplace business. We expect all of these moves to have a positive impact on our rate of profitability on a go-forward basis. However, they did result in roughly EUR 135 million of net charges in the quarter with EUR 44 million flowing through gross margin and EUR 91 million flowing through our operating expense. About EUR 25 million of these charges were cash related.
Over the last 14 quarters, Premium segment's GM remains somewhat static at 28%. Analysts asked whether Spotify will enjoy better margin for incremental price increases from the labels. Spotify was pretty tight lipped on that.
Ad segment's margin was positive again, but still miles to go to be considered respectable.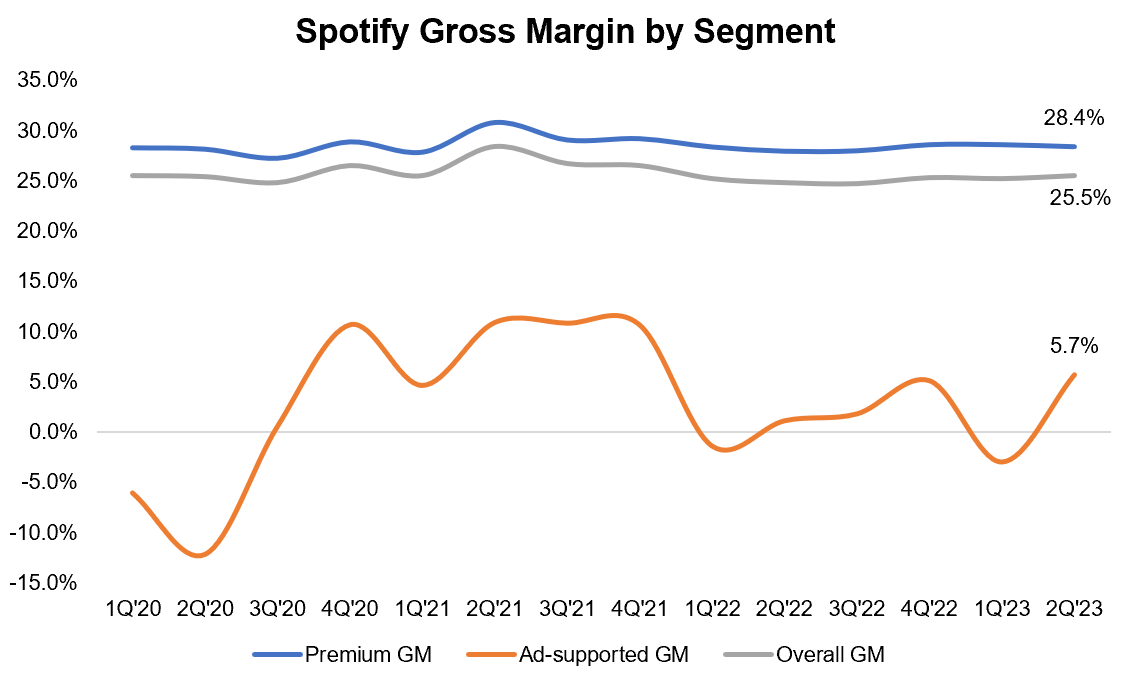 AI's Impact
There were some comments on AI's impact, but the following bit stood out to me:
if you think about advertisers today, the cost of generating new advertisements on Spotify is quite a big thing, especially on audio ads. By using Generative AI and our tools here, I think you're going to be able to see that we can significantly reduce the cost that it takes for advertisers to develop new ad formats. And that obviously means that you as an advertiser instead of having 1 ad, you can imagine having thousands and tested across the Spotify networks. Things that you could easily do today using text, but you haven't been able to do over video or in audio.
Opex
With 91 mn one-off charges this quarter, total opex trend may appear worse than it is. Nonetheless, Spotify probably needs to try harder to find efficiency in opex structure. Even if we adjust the one-off charges, total opex would be 120% of gross profit. Clearly, more "efficiency" is required.

Outlook for 3Q'23
In 3Q'22, Spotify added 7 mn premium subscribers, but is now guiding 4 mn for 3Q'23. Why?
Our data would suggest that historical price increases have had minimal impact on growth, but given the breadth of this change and the significant outperformance in the first half of the year, there is some conservatism baked into our outlook for Q3. We do expect our net adds through Q3 of this year to be higher than the same point last year, roughly 30% better.
Moreover, 600 bps FX headwind is assumed in guide.
You can read my Spotify Deep Dive (December, 2021) here
I will cover Alphabet's earnings tonight!