Alphabet 2Q'23 Earnings Update
Disclosure: I own shares, and Jan 2025 $50 call options of Alphabet
"With 15 products that each serve half billion people and 6 that serve over 2 billion each, we have so many opportunities to deliver on our mission."

-Sundar Pichai (2Q'23 Earnings Call)
Here are my highlights from Alphabet's call tonight.
Revenue
Topline grew +9% FXN. While Google Services revenue growth was flat in 1Q'23, it was 5.5% YoY in 2Q'23, with growth re-accelerating in every component of Google Services.
Despite cost optimization efforts by customers, Google Cloud maintained its momentum with ~28% YoY growth (same as it was in 1Q'23).
EBIT
Google Services maintained mid-30s EBIT margin. But note the following:
Costs associated with the Brain Team, which were previously included in Google Services, are now reported as part of Alphabet's unallocated corporate costs.
So, on an apple-to-apple basis, Google Services margin would be slightly lower this quarter than reported (say, ~$500 Mn opex for Google Brain).
Google Cloud improved its margin to MSD.
Search
Google launched "Search Generative Experience" or SGE" in May. Sundar sounds excited on initial feedback:
The feedback has been very positive. We've just improved our efficiency pretty dramatically since the product launch. The latency has improved significantly. We are keeping a very high bar, but I would say we are ahead on all the metrics in terms of how we look at it internally.
Google is currently building Gemini, a multimodal Large Language Model, which Google believes will make the user experience even better.
How about monetization? If one thing we can be relatively confident about, it is Gen AI will have material impact on how advertisers work with Google's ad products. Some excerpts on this point below:
Ads will continue to play an important role in this new search experience. Many of these new queries are inherently commercial in nature. We have more than 20 years of experience serving ads relevant to users' commercial queries, and SGE enhances our ability to do this even better. We are testing and evolving placements and formats and giving advertisers tools to take advantage of generative AI.

It's worth reiterating that while generative AI is now supercharging new and existing ads products with tons of potential ahead, AI has been at the core of our ads business for years. In fact, today, nearly 80% of advertisers already use at least one AI-powered search ads product.

…later this year, Automatically Created Assets, which are already generating headlines and descriptions for search ads, will start using generative AI to create assets that are even more relevant to customer queries.

To…drive consideration in the mid funnel, we're launching 2 new AI part ad solutions, demand gen and video view campaigns, and both will include (YouTube) shorts inventory.

YouTube
YouTube's +4% YoY ad revenue in 2Q'23 (vs -2.6% in 1Q'23) driven by growth in brand, followed by direct response, reflecting further stabilization in advertiser spend. Shorts is now watched by 2 Bn people every month (vs 1.5 Bn in 2Q'22)
"Google Other" revenue was bit of a surprise with +24% growth in 2Q'23 (vs +8.8% in 1Q'23). This was largely driven by strong growth in YouTube subscriptions revenues (also, Google Play growth turned positive this quarter).
While <MSD growth is not quite compelling for YouTube ads, considering the momentum in YouTube subscriptions (and recent price increases which is not reflected in 2Q'23) it may be increasingly not prudent to make quick judgment on YouTube's health based on ad revenue growth.
Google Cloud
Azure reported 27% FXN growth this quarter; Google Cloud (which includes GCP and Google Workspace) was slightly better at 28% (not FXN though). But since management mentioned GCP outpaced overall Google Cloud growth again, we can probably infer GCP is growing faster than Azure. We'll need to wait for Amazon's earnings next week to see AWS topline growth.
>70% gen AI unicorns are Google Cloud customers, and more than 750k Workspace users have access to new features such as Duet AI in preview. Google thinks upsell opportunities exist on their 9 mn installed base of Google Workspace customers.
Google indicated optimization still is continuing:
we saw a continued moderation in the rate of consumption growth as consumers optimize their spend
Headcount
The recent layoff hit the headcount number last quarter.
Capital Allocation
Google utilized ~70% of their FCF in buyback which led to 46 bps decline QoQ in diluted shares outstanding. They still have $105 Bn net cash on balance sheet. If they don't want to deplete the net cash balance, at least utilize 100% FCF to buyback shares.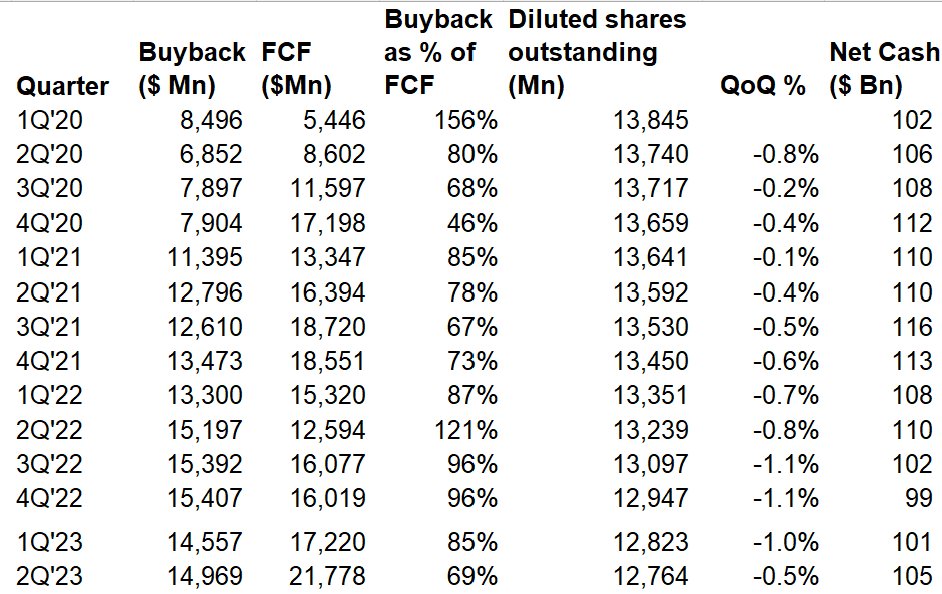 Capex
Google mentioned earlier that 2023 capex to be modestly higher than 2022. But so far after 1H, capex in 2023 stands at $13 Bn (vs $16.6 Bn in 1H'22). But Google reiterated their capex guidance which means we probably should expect ~$20 Bn capex in 2H'23. And the capex train will continue in 2024 as well. Here's how Ruth explained this capex cadence:
as it relates to CapEx, in Q2, the largest component was for servers, which included a meaningful increase in our investments in AI compute. The sequential step up in the second quarter was lower than anticipated for 2 reasons. First, with respect to office facilities, we continue to moderate the pace of fit-outs and ground-up construction to reflect the slower expected pace of headcount growth. Second, there were delays in certain data center construction projects. We expect elevated levels of investment in our technical infrastructure increasing through the back half of 2023 and continuing to grow in 2024. The primary driver is to support the opportunities we see in AI across Alphabet, including investments in GPUs and proprietary TPUs as well as data center capacity. With all that said, we remain committed to durably reengineering our cost base in order to help create capacity for these investments in support of long-term, sustainable financial value.
Valuation
I share this back-of-the-envelope valuation table on Google every quarter to have a quick gut check. When Google was trading at $100 or below, investors mostly needed to be confident about relevance of Google search in 5-10 years. Today, we also need to underwrite both sustainability and growth in Google Services business (led by Google Search, but YouTube will also have to play its role).
I will cover Meta's earnings tomorrow! Thank you for reading.