Spotify 2Q'22 Earnings Update
Disclosure: I own shares of Spotify
"…we believe the Spotify machine is what differentiates us from other tech platforms. It leverages one consumer experience, powered by 3 revenue-generating business models: subscriptions, ads and marketplace."
After falling into the abyss, the "machine" mostly delivered this quarter which led to +15% pop today!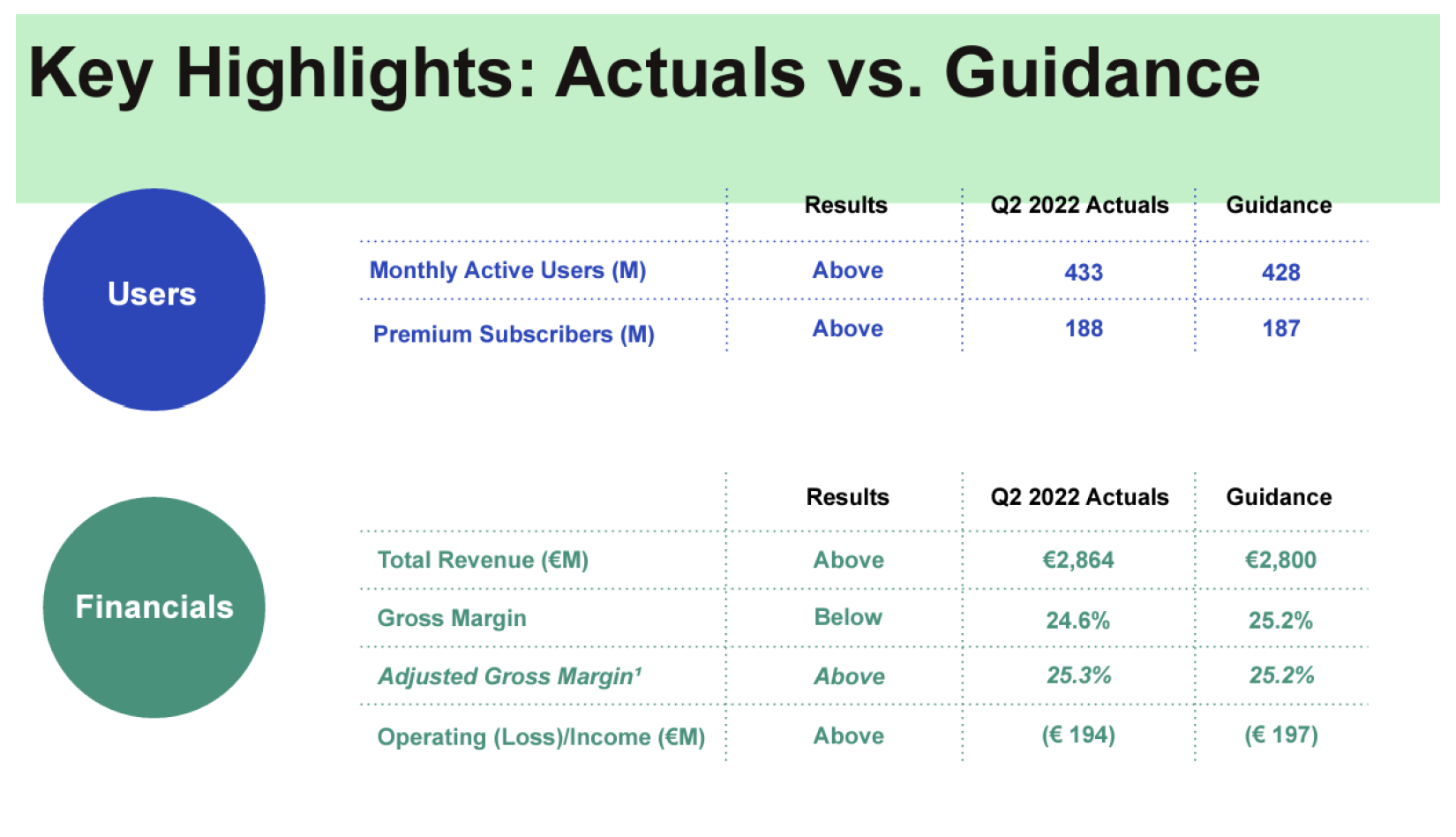 From 100 mn Premium subscribers in 1Q'19, Spotify is set to double the subscriber base by the end of this year.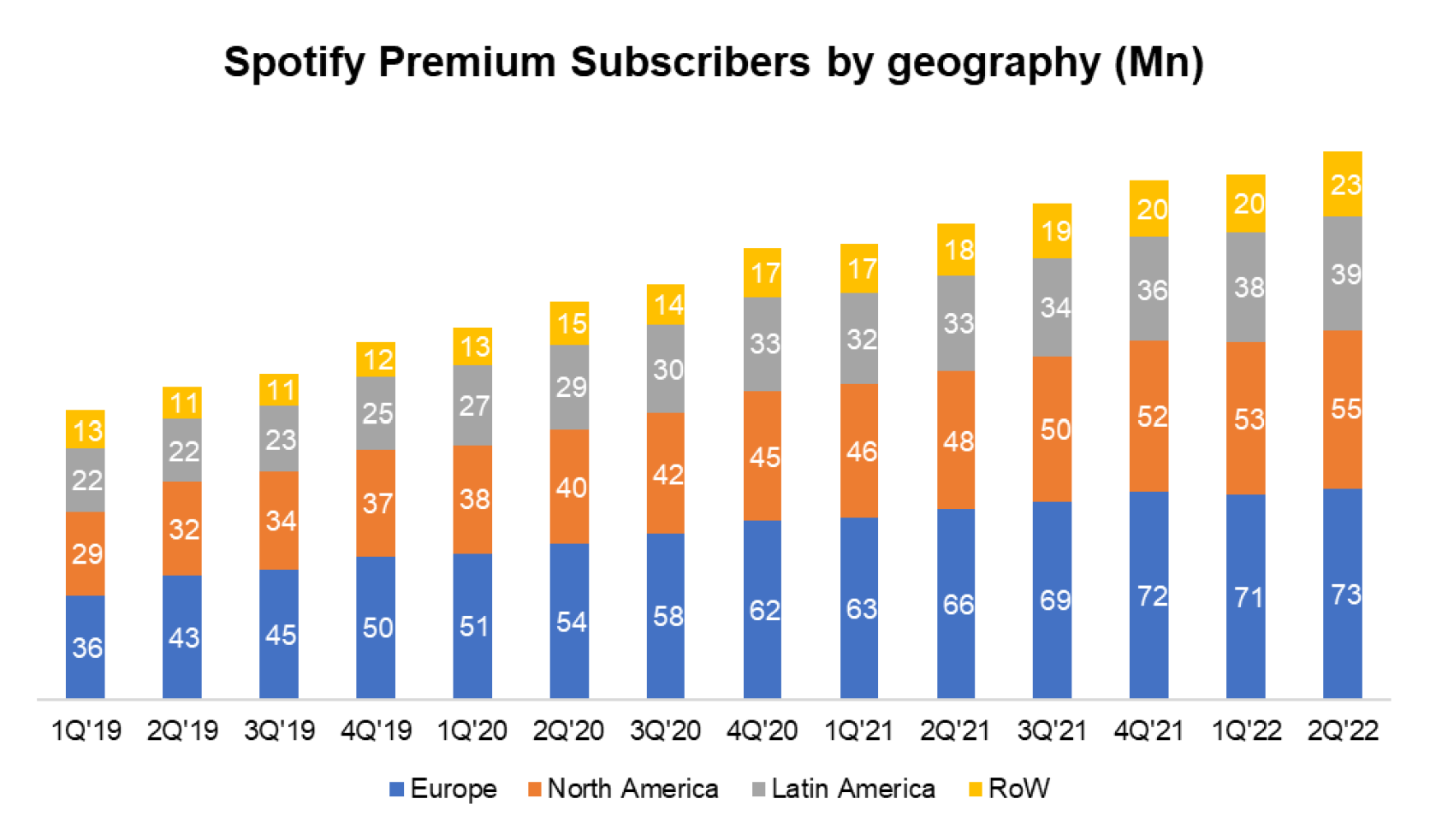 While Premium subs and MAU numbers exceeded guidance, Gross Margin fell below expectation mostly because of one-off adjustment for stopping manufacturing of "Car thing" and positive net royalty accruals in prior period.

One comparison I like to keep track is subs add of Netflix and Spotify. While Netflix was a massive beneficiary of Covid, Spotify added more premium subs on TTM basis for the last 7 quarters, and the difference is growing!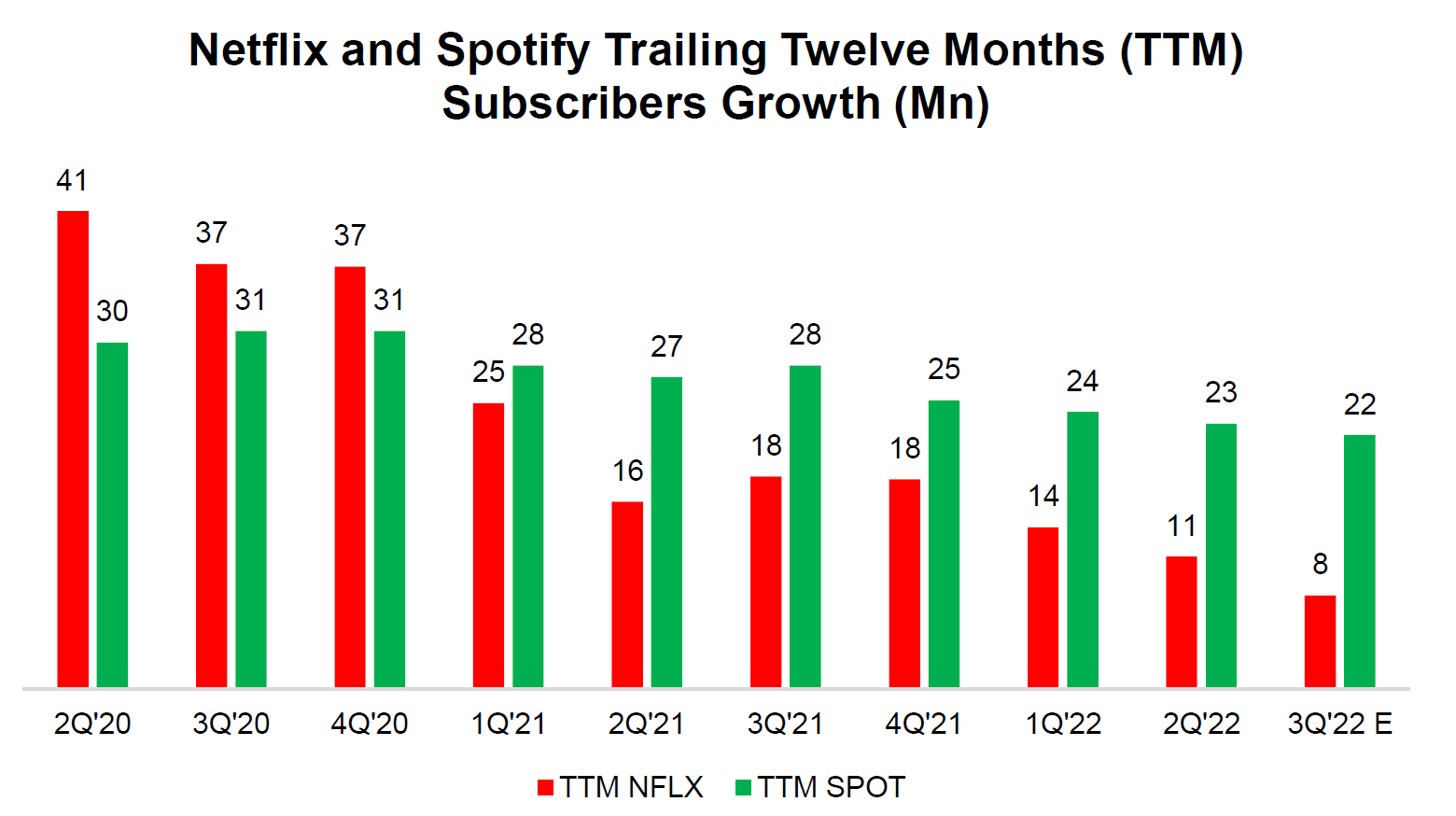 A big help for Spotify is its lower churn:
"…churn was in line with expectations and down on a year-over-year basis."

Spotify thinks it has pricing power, but given the macro uncertainty in the near term, it sounds like they are unlikely to exert pricing power soon.
Advertising Business
Ad segment maintained ~30% YoY growth momentum. Given 2Q'21's base, that's pretty good!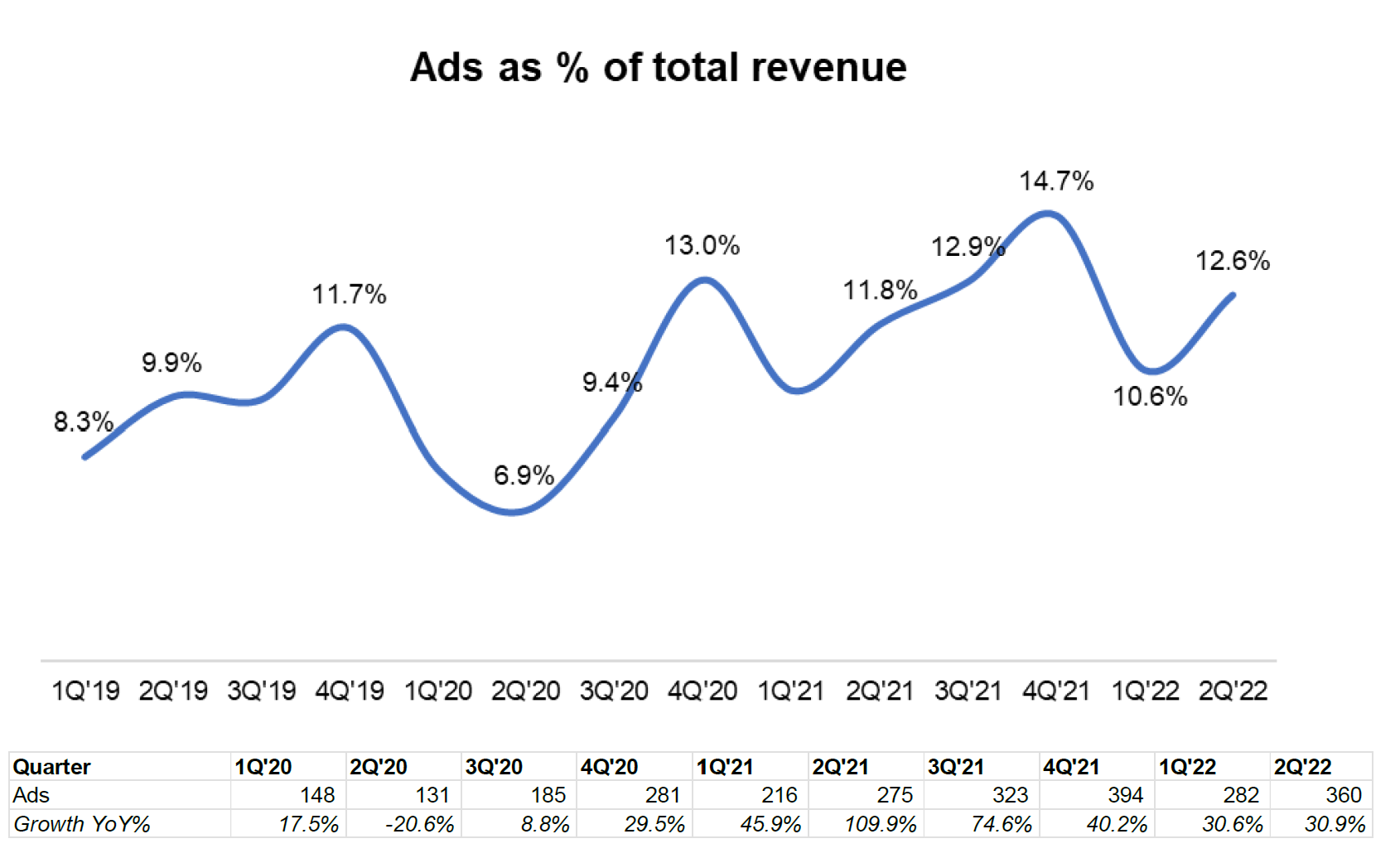 Music ad CPM was up double digit and impression was up Mid-Single Digit (MSD)
One analyst asked whether advertising budget for audio is more experimental. Here's what Daniel Ek said in response:
"if you think about it broader and not just around podcasting, but think about audio more as a category, one of the very unique things about audio and the properties around audio is really how differentiated it is from all the other media that's out there. So to take that into consideration, there is no other media format that can reach consumers in the car. The car is a massive use case, and particularly in North America. Radio usage is going down. Digital consumption of content is going up. It's quite obvious that audio ads is going to be a very dominant driver for reaching people lest they're in the car.

Similarly, when you think about -- as people are walking around outside, more and more of us with our headphones and earbuds in, there's a huge opportunity in local advertising, too. I believe that audio is the primary beneficiary of that.

…And so we are seeing, despite a very higher uncertain macro environments, advertisers take up to the format really, really well. And I think that's a testament to -- that the product is actually working. And we've talked about this before. But the retention of the advertisers that we have is also going up, and that clearly shows that the format is working for them."

Ad inventory is going to be a big tailwind:
"a lot of our inventory just isn't available to advertisers just yet. So we're expanding the amount of inventory that's available. That's going to be by far the single biggest contributor to the growth of the ad business."
Expenses

FX movement added 1,000 bps higher growth in expenses. Wow.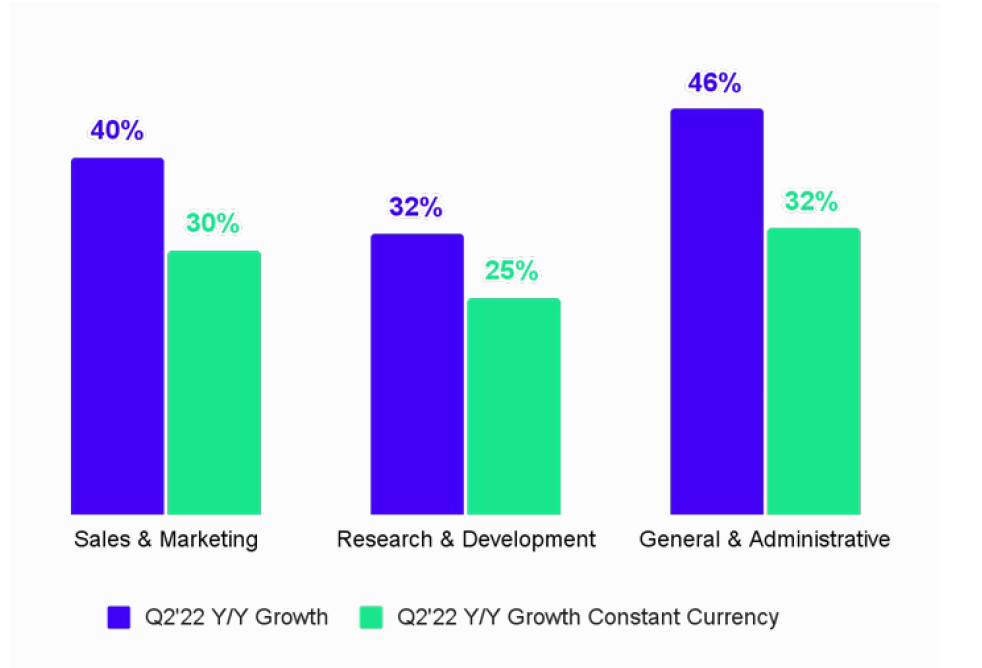 Outlook

Spotify is not seeing any material impact from economic slowdown on users/sub growth yet but preparing for worse anyway. They reduced hiring by 25% and "instituted a double-down weekly revenue monitoring".

Premium subs and MAU outlook +6 Mn and +17 Mn respectively QoQ
Expected ARPU growth MSD
Gross Margin 25.2%
Benefit of hiring slowdown will be realized in 2023
Expect FX headwind to be material in Q3 as well.
Expect to see impact of initiatives such as audiobooks in 2023. Audiobooks may have positive impact on gross margin.

To read my Spotify deep dive, including a downloadable excel model, go here
To browse through Spotify's earlier quarters, follow these links: 4Q'21, 1Q'22, Investor Day'22
I will send my thoughts on Shopify's quarter in a few hours!