Alphabet 2Q'22 Earnings Update
Disclosure: I own shares of Alphabet
2022 is the year of tough comps, along with macro uncertainty. The word "uncertainty"  was emphasized by CFO Ruth Porat because "the data are complicated".
Let's look at some simple data from the most recent quarter first.
While YoY quarter numbers doesn't seem impressive at first glance, in the context of 2-yr and 3-yr CAGR, Google's numbers are pretty darn impressive.

Operating income was flat YoY as incremental operating margin went in the wrong direction after some massive jump in last year.
Again, some contexts here: there was 3.7% FX headwind to topline this quarter (expect even larger FX headwind in Q3), but FX had greater impact on operating income since expense base is more weighted to USD.

TAC's run-rate is now ~$50 Bn/year. While bears talk about Apple's potential rival search product, color me skeptical given this growing "free money" they get to keep.  
Some interesting quotes from the call:
Search
"People are using Google to do visual searches more than 8 billion times per month."
"Merchants will soon be able to submit 3D images of their products to appear directly on Google Search. So customers can try before they buy."
"Searches for places to visit in summer were up 2x globally year-over-year, while searches for last-minute hotel deals were up 50%."
YouTube

"YouTube Shorts are watched by over 1.5 billion signed-in users every month with more than 30 billion daily views. In Q2, YouTube TV surpassed 5 million subscribers, including trials."
FYI, Google mentioned the same number i.e. >30 Bn daily views for YouTube shorts in Q1 as well.

As per Google commissioned study, for CPG companies YouTube CTV effectiveness turned out to be 3.1x greater than TV.

"…we have seen pullbacks in spend by some advertisers that, in fact, was the biggest factor in the quarter-on-quarter change, the sequential decline in the growth rate. And we're -- that we do view that as rather idiosyncratic as I said, some of it is supply chain, some of its inventory."

"ATT impact, in fact, remained relatively constant."
Android
"…Android remains the world's most popular operating system with more than 3 billion monthly active devices worldwide. Last year alone, consumers activated 1 billion Android phones."
Cloud
Some softness in cloud momentum, but long-term story remains intact
"…you do see a varying mix of -- some customers impacted in terms of their ability to spend, some customers just slightly taking longer times. And maybe in some cases, thinking about the term for which they're booking and so on. I don't necessarily view it as a longer-term trend as much as working through the macro uncertainty everyone is dealing with."
Buyback
In the last 10 quarters, Google repurchased more than 100% of its quarter's FCF only twice: 1Q'20 and 2Q'22. Google clearly likes to be a bit opportunistic in buyback which is great to see. Despite the buyback enthusiasm, diluted shares outstanding is going down very gradually (-2.3% YTD). Why?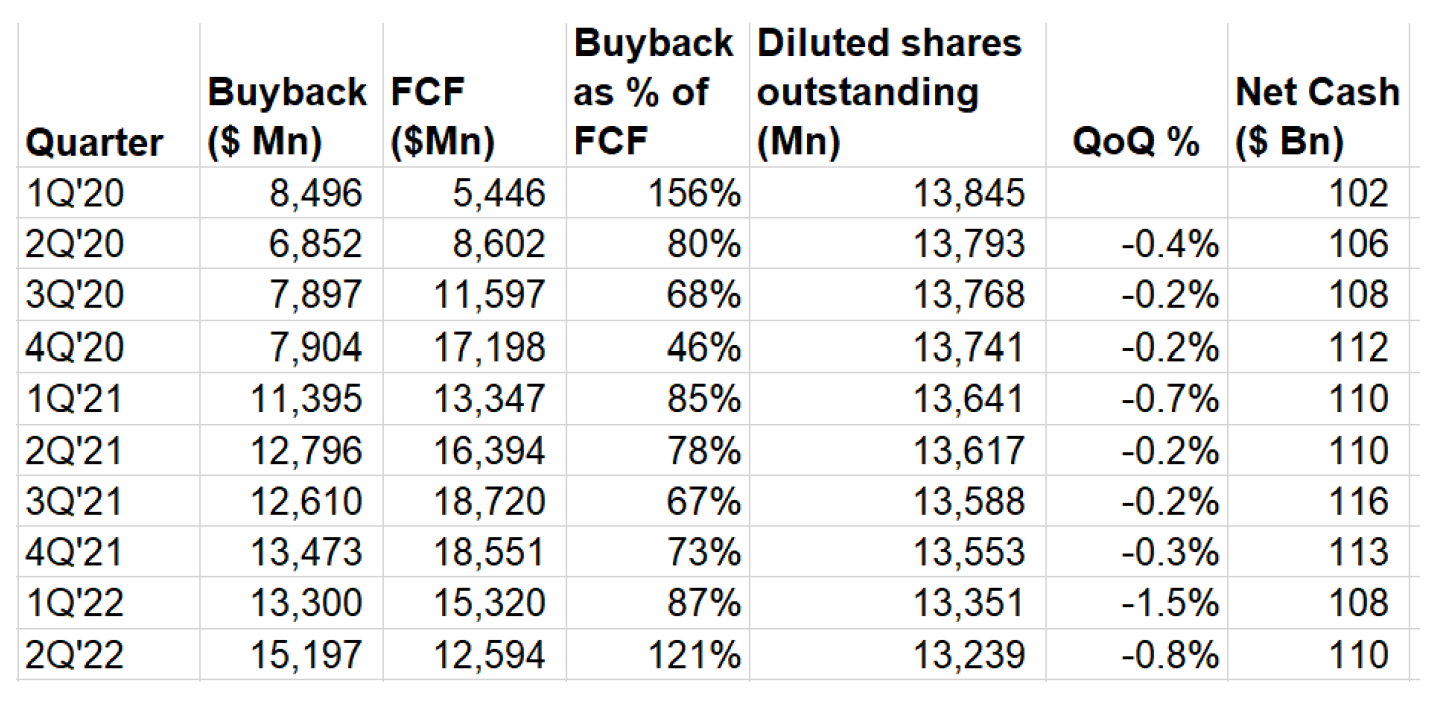 When you look at headcount, you'll get your answer. After adding ~4-5k employees/quarter in 2Q'19-2Q'21, Google ramped up massively in the last quarter. Now that "roaring 20s" isn't quite happening, Google has decided to slowdown hiring. But the impact of such slowdown will only be realized in 2023.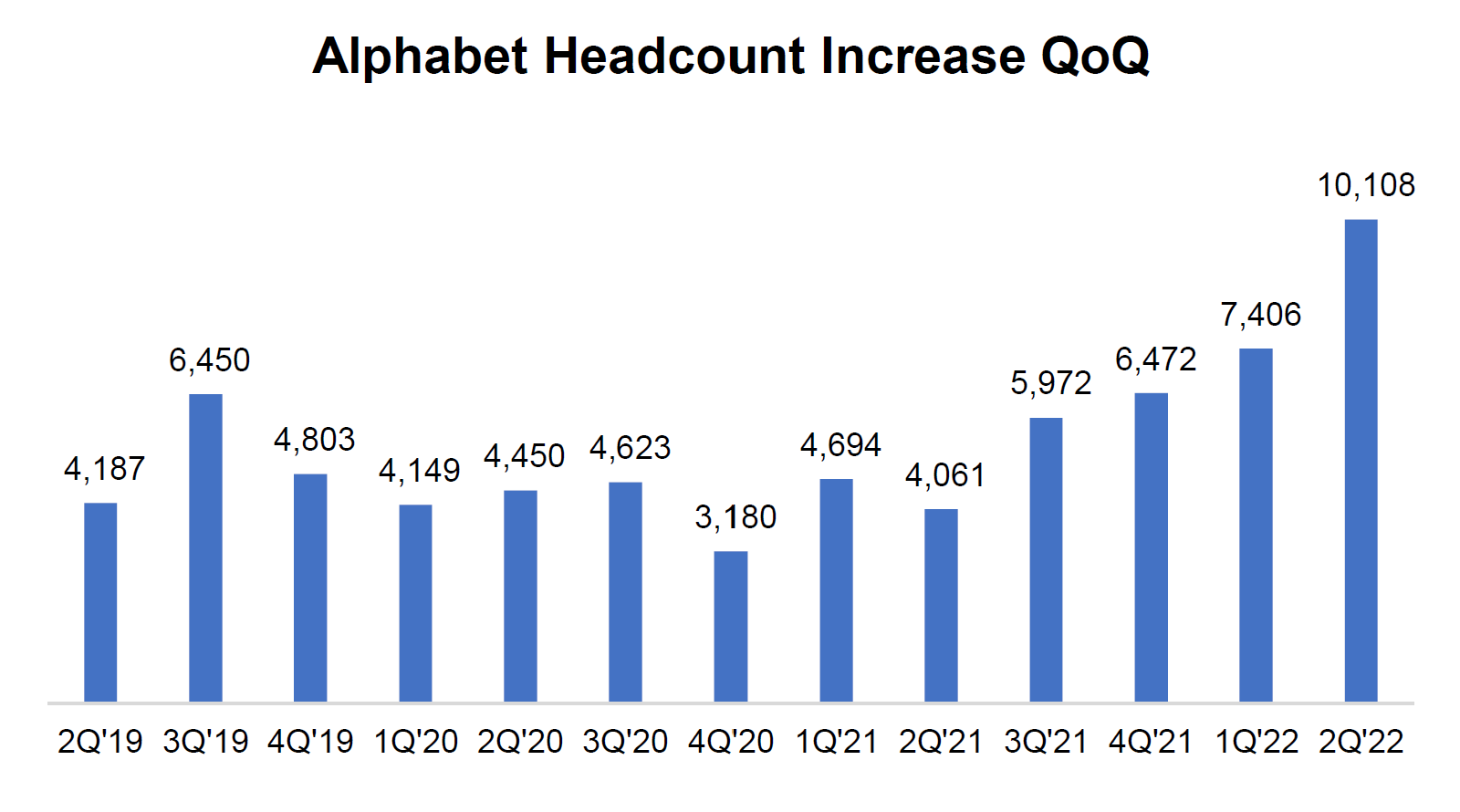 Given the potential for opex optimization, the stock remains valued at undemanding assumptions. Assuming 12.5x LTM EBIT for Google Services segment i.e. pretty close to "commodity multiple", 5x Google Cloud's run-rate revenue, deducting LTM corporate costs at 12.5x, and adding $110 Bn net cash gets you to current market cap.
Sure, "advertising is cyclical", but EPS growth may be far less cyclical!
I will cover Shopify, Spotify, and Meta tomorrow.
You can browse Google's previous quarters here: 2Q'20, 3Q'20, 4Q'20, 1Q'21, 2Q'21, 3Q'21, 4Q'21, 1Q'22