Alphabet 4Q'22 Earnings Update
Disclosure: I own shares, and Jan 2025 call options of Alphabet
More than 6 years ago, I first spoke about Google being an AI-first company
-Sundar Pichai (4Q'22 Earnings Call)
Given the hype of AI and speculation of AI being potentially Achilles heel of Google Search and its profitability, AI was predictably a huge focus on this call.
Here's my highlights from tonight's call.
Revenue
4Q'22 revenue was +1% YoY but +7% FXN, so material FX headwind in every revenue line item
FY 2022 search revenue +9.1%; click +10%, CPC -1%
Clicks were up 10% in 2022, reflecting a number of factors, including increased engagement, primarily on mobile devices and improvements in ad formats.
YouTube Ads down ~8% YoY

Operating Income
Google Services operating margin was again in the low 30s. Cloud margin improved by ~362 bps QoQ. At this pace of QoQ improvement, we may see Cloud reaching profitability in Q3/Q4 this year.

Google Cloud
One thing I like to track is how Google Cloud is progressing against AWS. Last quarter's performance is quite encouraging (or probably AWS was just worse? more on this on Amazon's coverage later)
Note Google will increase estimated useful life to 6 years which will lower depreciation expense by $3.4 Bn in 2023. It almost seems like all hyperscalers+Meta are in competition who can extend useful life of servers.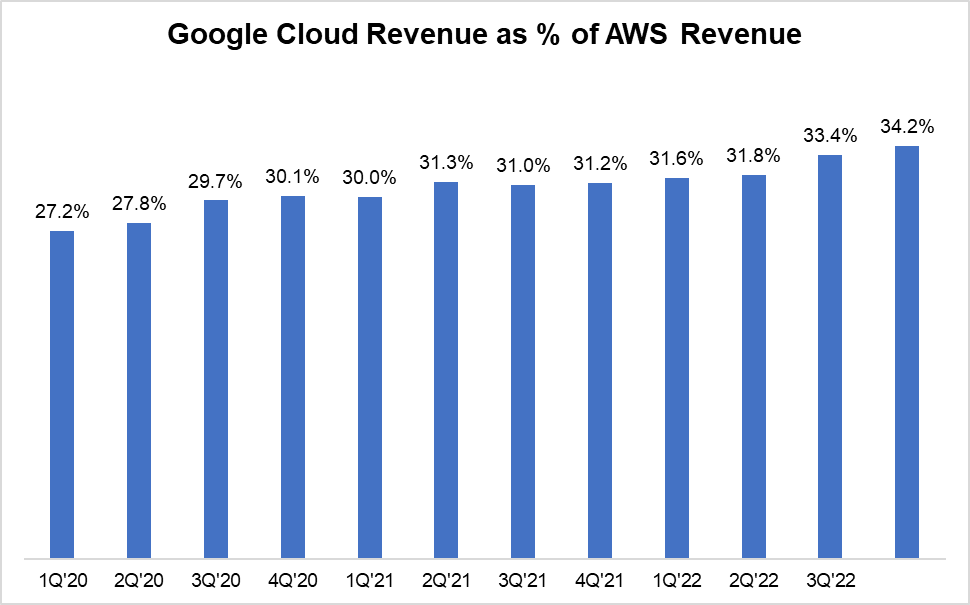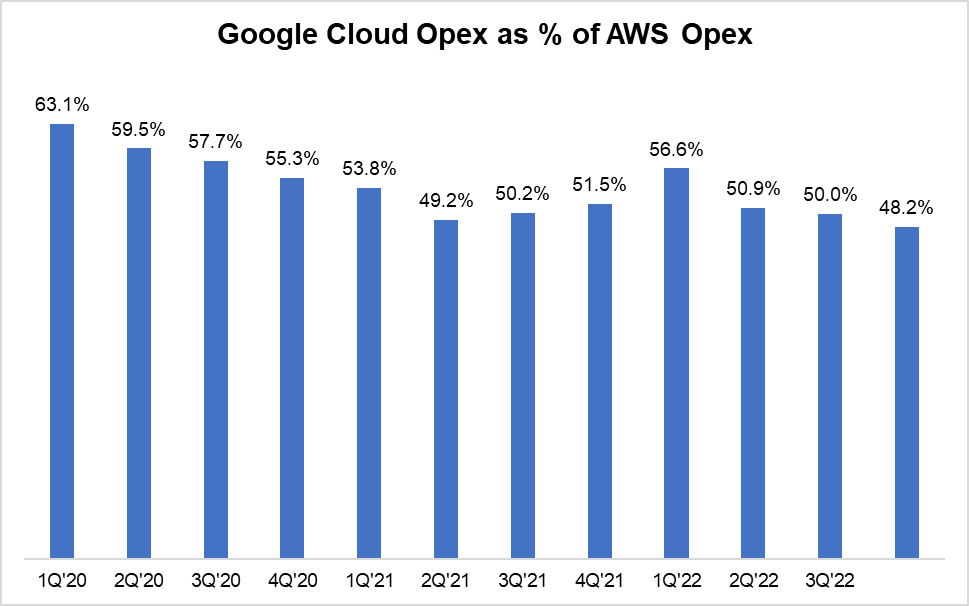 Other Bets
Other bets losses are continuing in the wrong direction. Hopefully this macro environment is finally going to put a brake on this.
Also, DeepMind, which was reportedly profitable in 2020, will be part of "Corporate cost" from next quarter which means other bets losses can deteriorate even more.
DeepMind, previously reported within Other Bets, will be reported as part of Alphabet's corporate costs, reflecting its increasing collaboration with Google Services, Google Cloud, and Other Bets.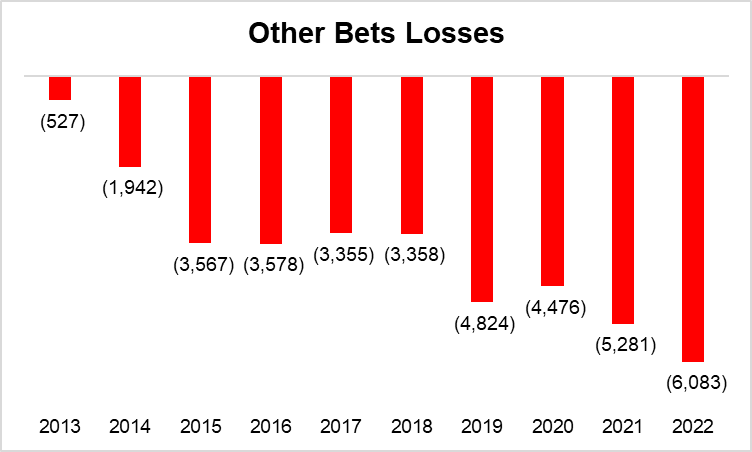 AI
So about AI...Sundar basically painted a picture that intends to show how AI is underpinning almost all of their product portfolio. let me just highlight bits and pieces from Sundar's prepared remarks:
We have been preparing for this moment since early last year, and you're going to see a lot from us in the coming few months across 3 big areas of opportunity: first, large models. We published extensively about LaMDA and the industry's largest, most sophisticated model plus extensive work at DeepMind. In the coming weeks and months, we'll make these language models available, starting with LaMDA so that people can engage directly with them. This will help us continue to get feedback, test and safely improve them.
These models are particularly amazing for composing, constructing and summarizing. They will become even more useful for people as they provide up-to-date more factual information. And in Search, language models like BERT and MUM have improved searches for 4 years now, enabling significant ranking improvements and multimodal search like Google Nets. Very soon, people will be able to interact directly with our newest, most powerful language models as a companion to Search in experimental and innovative ways. Stay tuned.
Second, we'll provide new tools and APIs for developers, creators and partners. This will empower them to innovate and build their own applications and discover new possibilities with AI on top of our language, multimodal and other AI models.

Third, our AI is a powerful enabler for businesses and organizations of all sizes, and we have much more to come here.
There's a few flavors of this. Google Cloud is making our technological leadership in AI available to customers via our Cloud AI platform, including infrastructure and tools for developers and data scientists like Vertex AI. We also offer specific AI solutions for sectors like manufacturing, life sciences and retail and will continue to roll out more. Workspace users benefit from AI-powered features like Smart Canvas for collaboration and Smart Compose for creation. And we are working to bring large language models to Gmail and Docs. We'll also make available other helpful generative capabilities from design and more.
And for our advertising partners, Philipp will discuss in detail how AI is powering dramatic campaign improvements and value-adding features for them. Of course, in addition to all this, AI also continues to improve Google's other products dramatically. And we'll continue our work with others outside Google, including joint research collaborations to develop AI responsibly and to apply AI to tackle society's greatest challenges and opportunities.
For example, DeepMind's protein database of all 200 million proteins known to science have now been used by 1 million biologists around the world. We continue to invest in AI across the board, and AI and DeepMind are integral to a bright AI-first future. Over the past few years, DeepMind has been increasingly working across groups within Google and the other And to reflect that progress, we'll be making a financial reporting change that Ruth will share more about in her comments. We are just at the beginning of our AI journey and the best is yet to come.
Margins
A few questions on margin impact of AI, but while nothing specific was given, general message seems to be that AI is already incorporated in many of Google's products. It's not clear how much impact there will be incrementally.
Google indicated it will take time to execute on cost rationalization which will be more clearly seen in 2024 rather than 2023.
YouTube
Shorts is now averaging 50 Bn daily views (30 Bn in 1Q'22)
YouTube Music and Premium surpassing 80 million subscribers, including trials.
Pixel
we gained share in every market we operate in this year.
Buyback
Google used almost its entire FCF to buyback shares which led to 1.1% QoQ decline in diluted shares outstanding; YoY shares down 3.7%. They still have ~$100 Bn net cash on Balance Sheet. They probably should repurchase shares a bit more aggressively given the stock price.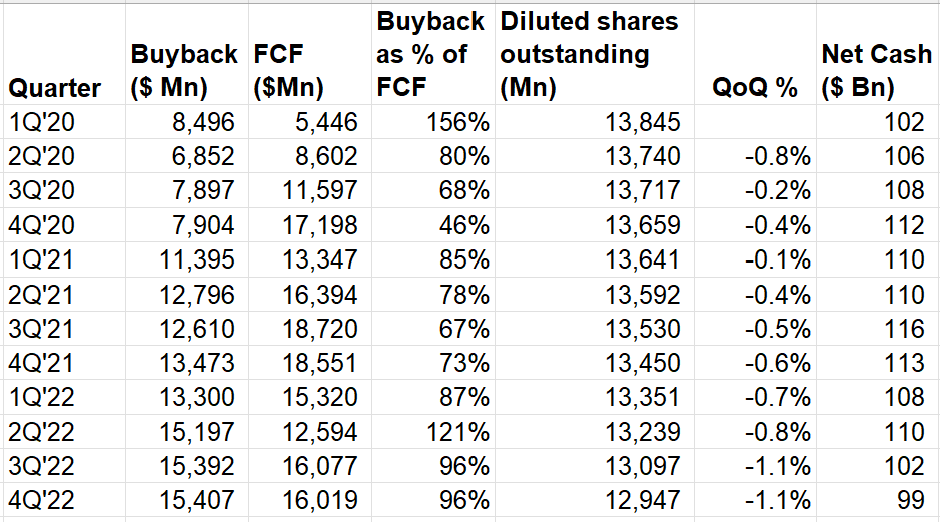 Headcount
Google laid off 12k which will be mostly reflected in 1Q'23. Severance charge $1.9-2.3 Bn.
Avg. Opex per overhead $334k.
LTM SBC per overhead ~$110k, which is lower than Meta's ~$150k. Meta makes even Google look stingy! Of course, ultimate $ value of SBC depends on stock price and Google's stock has handily beaten Meta over the last 1,3,5 years. So most Meta employees may have ended up making less than Google employees.

Capex
2023 capex will be in line with 2022 "with an increase in technical infrastructure versus a decline in office facilities."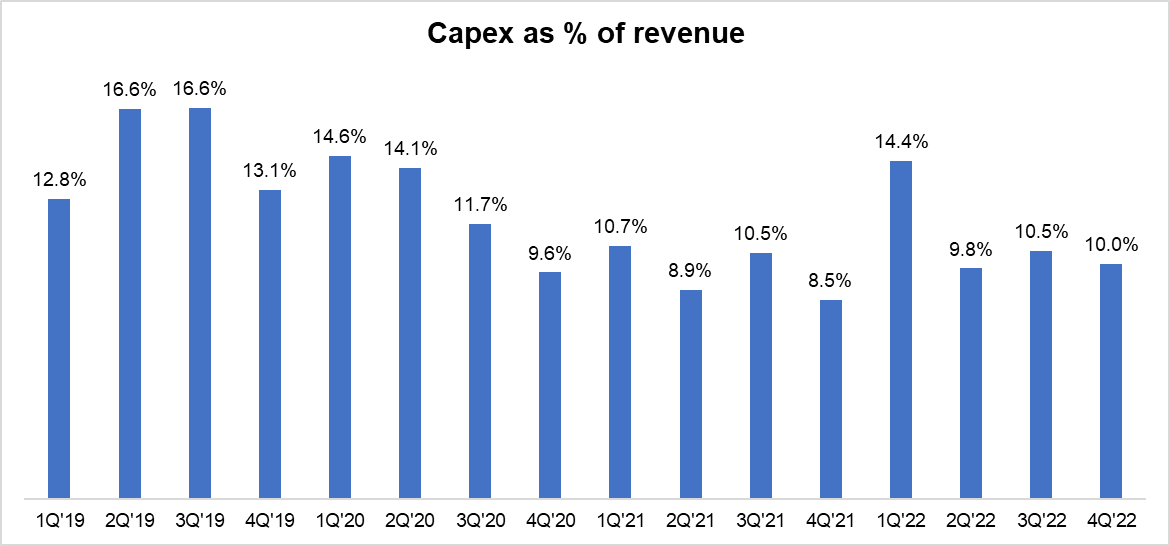 Valuation
Google's valuation remains somewhat undemanding.
As they say, "in the long run, everything is a toaster", and if we assume we have reached "the long run" for Google and use ~12x LTM EBIT multiple, and throw a shabby ~5x revenue multiple for its cloud business, we still get pretty close to Google's current market cap.
Of course, there's a theory on Search business economics imploding in the world of AI. That's a topic for another day (likely sometime later this month)!
(feel free to dip your toes on the Tip Jar if you find these recaps helpful)

I'll cover Amazon's earnings tomorrow morning.