Disclosure: I am long shares and Jan 2025 $50 Call Options of Alphabet
While Google Service segment did just fine, Google Cloud's pace of deceleration in topline was a bit disappointing.
Here are my highlights from Alphabet's call tonight.
Revenue
After four consecutive quarters of single digit growth, Google returned to double digit growth this quarter. Both Search and YouTube grew by double digit, but Google cloud's topline growth came down from ~28% last quarter to 22.5% this quarter.
EBIT
Google Services maintained mid-30s EBIT margin, but after posting QoQ margin expansion for the last 6 quarters, Google Cloud's margin declined from 4.9% in 2Q'23 to 3.2% in 3Q'23.
If you compare Google's current quarter's result to the respective pre-Covid results, Google's 3Q'23 overall revenue increased by 89% compared to 3Q'19 revenue, but EBIT increased by 133% during the same time. Despite the hiring spree post-pandemic, Google's incremental margins have been quite strong.
One thing I would like to highlight here is TAC as % of ad revenue came down to 21.2% which was the lowest since Google started disclosing Google Advertising revenue separately in 4Q'18.
Given Pixel's relative success recently, it would not surprise me if this number continues to go down:
Pixel is the fastest-growing smartphone brand in our top markets and the only one that grew in units sold year-over-year
Search
Google will launch "next generation series of models" in 2024:
we are developing Gemini in a way that it is going to be available at various sizes and capabilities, and we'll be using it immediately across all our products internally as well as bringing it out to both developers and cloud customers through Vertex. So I view it as a journey and each generation is going to be better than the other, and we are definitely investing and the early results are very promising.
When asked about whether the future of query is decentralized via many different applications/bots, Google reminded that it was always a possibility that they were and remain focused to defy:
if you zoom back and take an information view of the world, there's always been many different ways to get it. And part of our work we do in making Search be world-class and give users what they're looking for so that we can get it as much of that intent as possible. So I don't see that changing.
With mobile, there were more ways people could get information, but we worked out to make Search work better in the mobile world. And similarly, a view with AI, there'll be many ways people get information, but it also offers us an opportunity in Search and in Assistant to take it to the next level and answer use cases, which we couldn't have done before and expand the diverse set of needs where we are sourced. So that's how I see the opportunity ahead
YouTube
Google disclosed YouTube shorts is now viewed 70 Bn times daily (prior disclosures: 4Q'22: 50 Bn, 1Q'22: 30 Bn)
For comparison, Reels was viewed 200 Bn in 2Q'23 (prior disclosure in 3Q'22: 140 Bn)
Reels is clearly ahead of Shorts and that gap doesn't seem to be closing over time.
Google Other revenue was +21% YoY, led by YouTube subscription revenues. YouTube's non-ad revenue is almost certainly growing faster than ad revenues.
Google Cloud
Google Workspace now has 10 mn paying customers (prior disclosures: 1Q'23: 9 mn, 1Q'20: 6 Mn, 1Q'19: 5 Mn)
From Q2 to Q3, the number of active generative AI projects on Vertex AI grew by 7x
Google Cloud's topline growth was especially disappointing given the context of Azure, with a higher base, posting +28% YoY growth
Other
Some interesting comments on other/other bets:
We also shared that Chromebooks will now get regular automatic updates for 10 years, more than any other operating system.
…In Other Bets, Waymo is onboarding more riders to its commercial ride-hailing service as it gradually adds over 100,000 people from its San Francisco waitlist. Austin will follow as its next ride hail city. Wing and Walmart announced a new partnership to provide drone delivery service in the Dallas-Fort Worth area.
Capital Allocation
Google utilized ~70% of their FCF in buyback which led to 53 bps decline QoQ in diluted shares outstanding. They still have $106 Bn net cash on balance sheet. Google management sort of hinted why they didn't utilize all of their FCF to buyback shares in the last couple of quarters:
our cash balance and free cash flow in the second and third quarters benefited from the deferral of certain tax payments to the fourth quarter of 2023.
…On October 16, 2023, we made an estimated tax payment to the IRS of $10.5 billion that will be reflected in our fourth quarter operating cash flow.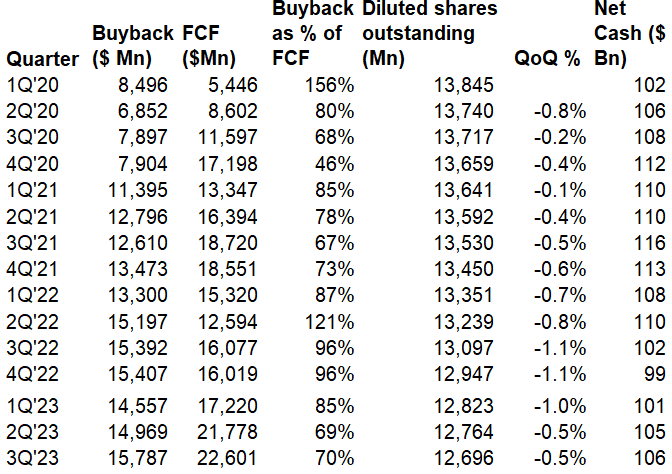 Capex and Opex
Google started hiring again although at a much subdued pace. They hinted that they expect topline to grow faster than total opex growth.

Outlook
First, cost of sales in the fourth quarter will reflect both higher hardware costs given Pixel family launches as well as increased YouTube as previously noted.
Second, as usual, we expect sales and marketing expenses to be more heavily weighted to the end of the year, in part to support product launches and the holiday season.
…Finally, our reported CapEx in Q3 was $8 billion, driven overwhelmingly by investment in our technical infrastructure with the largest component for servers, data centers, reflecting a meaningful increase in our investments in AI compute. The growth in reported cash CapEx in Q3 is somewhat muted due to the timing of supplier payments which can cause variability from quarter-to-quarter. We continue to invest meaningfully in the technical infrastructure needed to support the opportunities we see in AI across Alphabet and expect elevated levels of investment, increasing in the fourth quarter of 2023 and continuing to grow in 2024.
Valuation
I share this back-of-the-envelope valuation table on Google every quarter to have a quick gut check. While Google seems more or less fairly or reasonably valued today, its long-term future will be very reliant on the durability and sustainability of Search profits.
You can read my more in-depth analysis on Google here (March, 2023). I will cover Meta's earnings tomorrow.
Thank you for reading.