Alphabet 3Q'22 Earnings Update
Disclosure: I own shares of Alphabet
"There's no question we're operating in an uncertain environment"
Summertime is over, and winter is almost here. Here are some of my highlights from 3Q'22.
First things first, there was 5% FX headwind, so FXN revenue was +11%.
YouTube ads and Google Network revenue declined YoY. Cloud continued its growth momentum.

While Google Services EBIT declined by 17.5% YoY, given FX is a larger headwind for EBIT, EBIT declined by ~7-8% YoY FXN. Google Cloud's margin was -10.2% which was its highest ever. Cloud is likely to be a nice tailwind for margin in 2023.

Search
Google is optimistic about Search's performance during the economic downturn:
In challenging times like these, advertisers are carefully evaluating the effectiveness of their budgets. Search tends to do relatively well in such an environment, given its strong measurability and focus on delivering ROI. It's also well suited to quickly adjust to changes in consumer behavior. And when Search is coupled with our automation products across bidding, creatives, targeting or Performance Max, it can drive performance even further.
We are also making visual search more natural than ever before. People now use Google Lens to answer more than 8 billion questions every month using just a photo or an image.
YouTube
While YouTube ads declined YoY,  YouTube non-advertising revenue increased YoY driven by Music Premium and YouTube TV.
Revenue sharing on Shorts will arrive early next year.
YouTube Shorts are watched by 1.5 billion users every month which lead to >30 billion daily views. Google mentioned the exact same numbers in Q1 and Q2. Does that mean Shorts DAU/MAU is not growing?
At least, Shorts monetization is here:
As of September, ads on Shorts have officially launched via video action, app and Performance Max campaigns.
video action campaigns with product feeds saw an over 70% increase in conversions on Shorts versus those without.
Shorts viewership as % of total YouTube watch time is increasing:
We continued to experience a slight headwind to revenues as Shorts viewership grew as a percentage of total YouTube watch time. And as I alluded to earlier, the initial progress on Shorts monetization has been encouraging.
YouTube TV is putting up some big numbers:
Nielsen reported that YouTube was the leader in streaming TV viewership in the U.S. in September for the first time.
Eyeballs keep moving away from traditional TV. On average, global viewers are watching 700 million-plus hours of YouTube content on TV daily.
YouTube paid creators, artists and media companies over $50 billion in the last 3 years!
Play revenues declined YoY:
Play revenues were lower due to a number of factors, including a decline in user engagement and gaming from the elevated levels seen earlier in the pandemic. Among other factors, this shift in user behavior also created downward pressure on our advertising revenues, with lower revenues from ad promo spend on YouTube Network and Play Ads in Search and other.
More advertisers pulled back in Q3. Some sectors that pulled back within financial services (for example): insurance, loan, mortgage and crypto subcategories.
Cloud
Google Workspace is now used by more than 8 million businesses and organizations worldwide. (earlier disclosure: 5 mn in Feb'19, 6 mn in Apr'20)
Cloud may not be immune from macro softness:
in some cases, certain customers are taking longer to decide, and some have committed to deals with shorter terms or smaller deal sizes, which we attribute to a more challenging macro environment.
Other Bets
Waymo announced that Los Angeles will be its third ride-hailing city, joining Phoenix and San Francisco. Waymo will begin by mapping several neighborhoods in LA as it prepares to serve people there. Wing just surpassed 300,000 commercial deliveries. It's servicing new areas in Australia and announced its first drone delivery trials in Ireland.
Buyback
One disappointing aspect from the earnings was non-aggressive buyback cadence (below 100% FCF). One would imagine this is the time to use the $100 Bn net cash to put it to some good use. Despite $15 Bn buybacks, diluted shares outstanding was down 1.1% QoQ.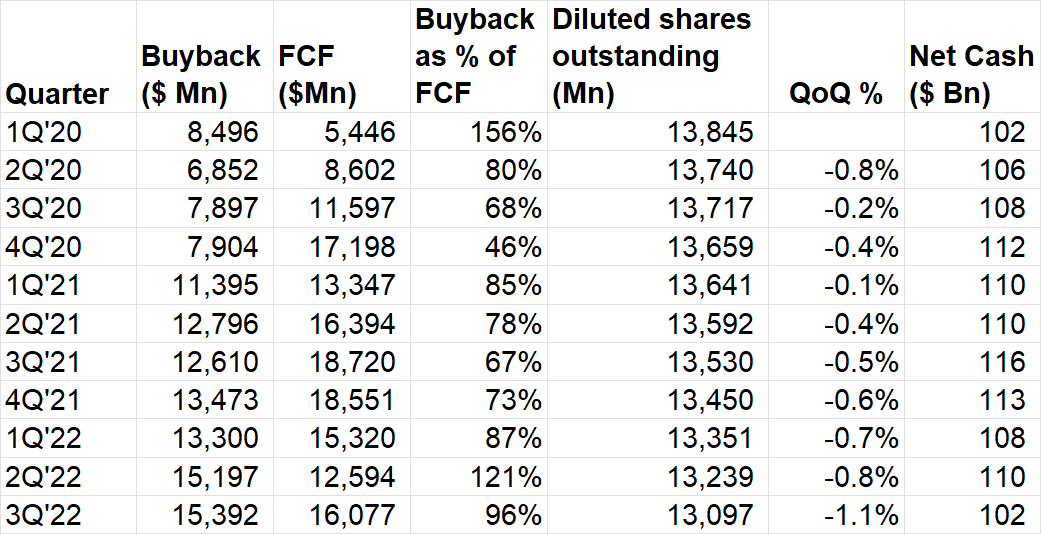 That's probably not surprising when you see the headcount (+12.8k QoQ, excluding Mandiant acquisition ~10k QoQ).
I hope you are sitting, because I'm going to say something astonishing:
Number of headcount added by Google in the last 14 quarters (2Q'19-3Q'22) = Meta's total employees as of 2Q'22

Google management, however, promised that Q4 headcount add will be less than half of Q3, and 2023 will exhibit more cost discipline in terms of headcount add.
Capex
Capex YTD $23.8 Bn (vs $24.6 Bn for full year of 2021)
servers really has been the largest driver of the investment dollars. The technical infrastructure team has consistently focused on levers to improve utilization and efficiency and they continue to do so.
Outlook
Google expects even larger FX headwind in Q4
In the fourth quarter, the very strong revenue performance last year will continue to create tough comps that will weigh on the year-on-year growth rates of advertising revenues.
Valuation
It is hard to argue Google's valuation is expensive. The core Google Service business is trading at ~12x LTM EBIT if we value Google Cloud at 5x run-rate revenue.
But let's hope they don't add a "Meta" in the next 3-4 years in their headcount.

I will post my thoughts on Spotify earnings later tonight.