Spotify 3Q'22 Earnings Update
Disclosure: I own shares of Spotify
"...I suspect many of you think Spotify is a great product, yet at the same time, you may also think that we're a bad business or at least a business with bad margins for the foreseeable future."

Daniel Ek
Unfortunately, the skeptics are yet to be proved wrong as Spotify missed their gross margin guidance this quarter.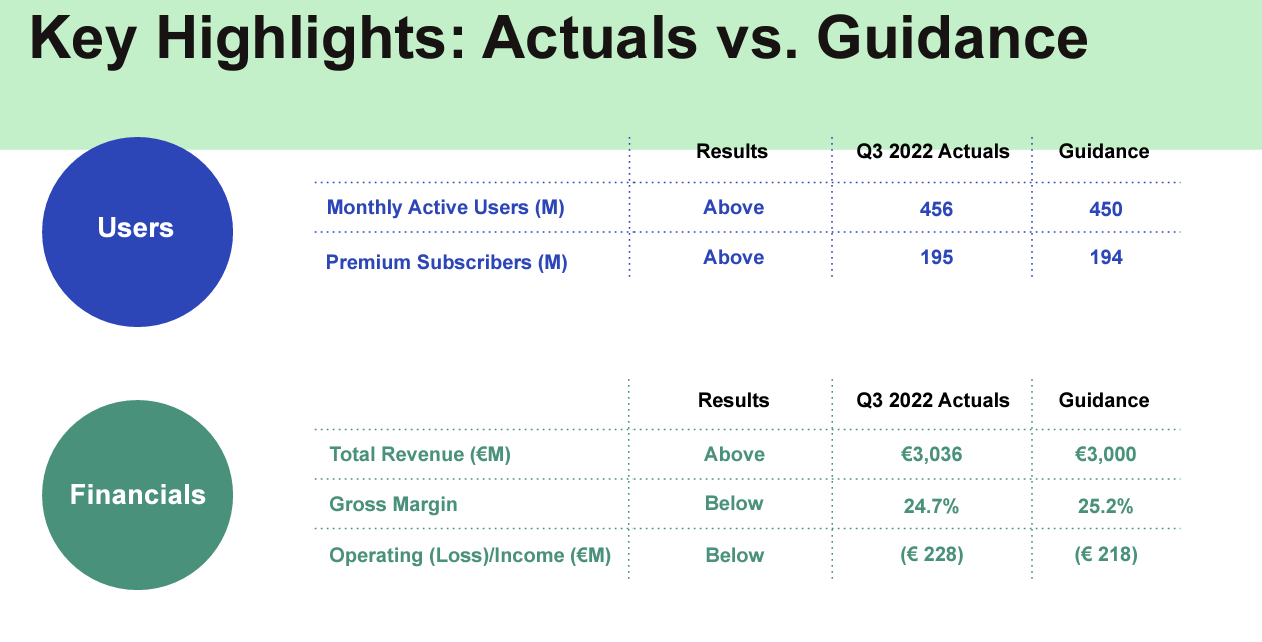 Here are some highlights from 3Q'22.
While Premium subscribers is likely to exceed 200 mn next quarter (~2x over last 15 quarters), MAU is growing even faster, mostly driven by RoW.
ARPU for premium is up QoQ for the last 6 consecutive quarters.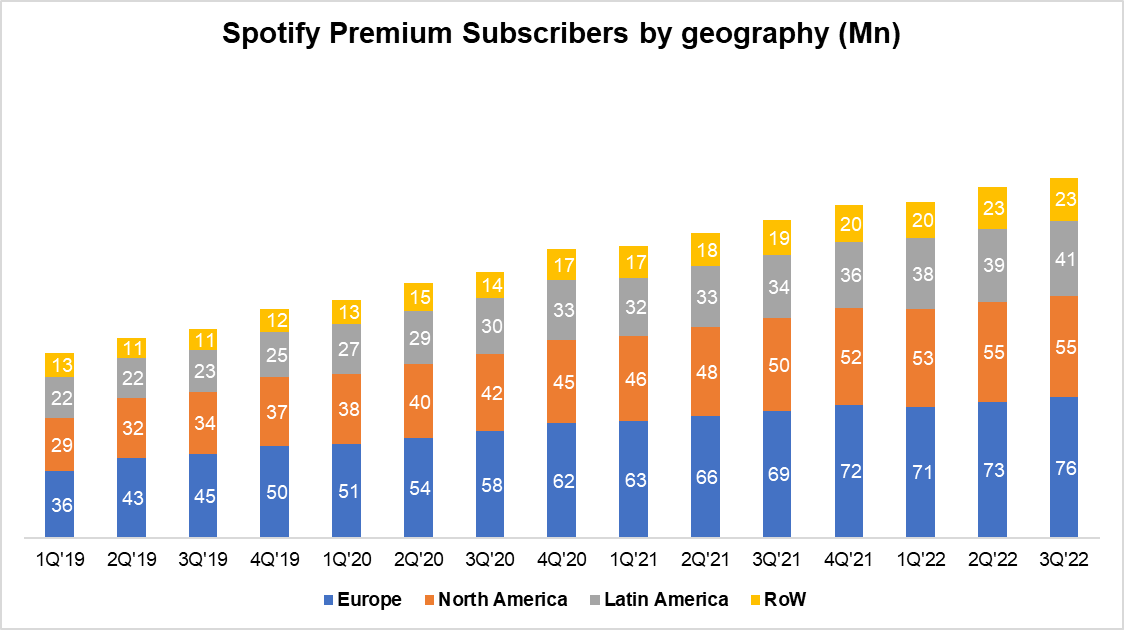 One metric that I like to keep track is subs add of Netflix and Spotify. While Netflix was a massive beneficiary of Covid, Spotify added more premium subs on TTM basis for the last 7 quarters, and the difference continues to widen over time!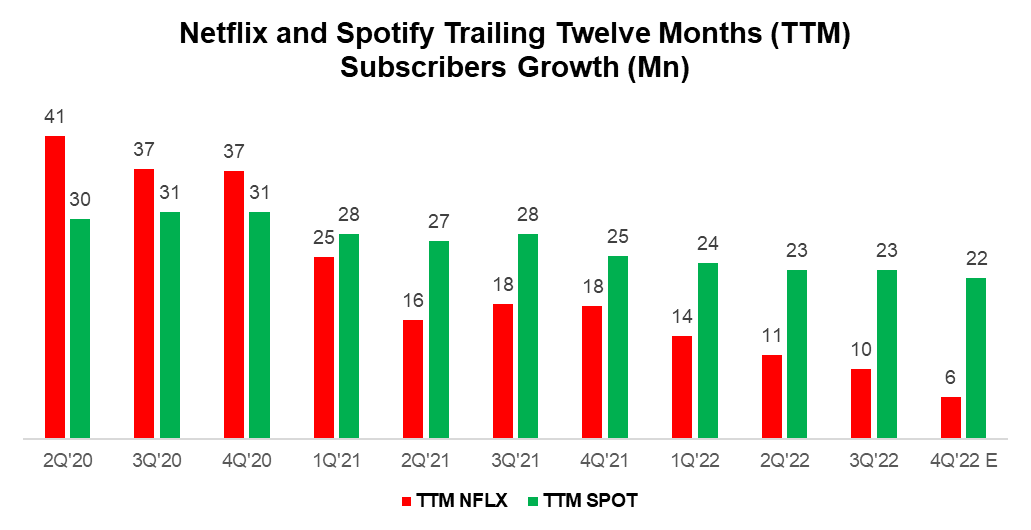 Will Spotify raise price for premium?
A price increase in the US seems imminent.
in the last 2 years, we've actually done more than 46 price increases in markets around the world.
And again, in specific, mostly to the U.S.-based price increases, it is one of the things that we would like to do, and this is a conversation we will have in light of these recent developments with our label partners.
Negotiation with labels on incremental price increases
I hope Ek goes really hard on getting a better deal from the labels for marginal price increases. And if he doesn't get it, I would support focusing on taking market share than just following Apple on price increases.
again, any price increases that we choose to do should be net-net a win-win for both parties. So that's definitely part of any conversations when we're talking about pricing with our label partners, as you could imagine, even in the past and in the context of the 46 price increases we've already made
Platinum tier/HiFi update
Unfortunately, no updates yet. Spotify was asked, but they avoided the question.
Competition from TikTok
Ek mentioned in the markets TikTok already has its music streaming product (Resso), it hasn't been able to take market share from Spotify.
"When they've taken share-they haven't taken share from us. It's been from others."
Ads
Spotify's ads business is facing headwinds as well; revenue growth decelerated from 30% in the last two quarters to 20% this quarter. But since ads remains a small portion of the overall business, management thinks the headwinds will be manageable. EMEA  is softer than North America.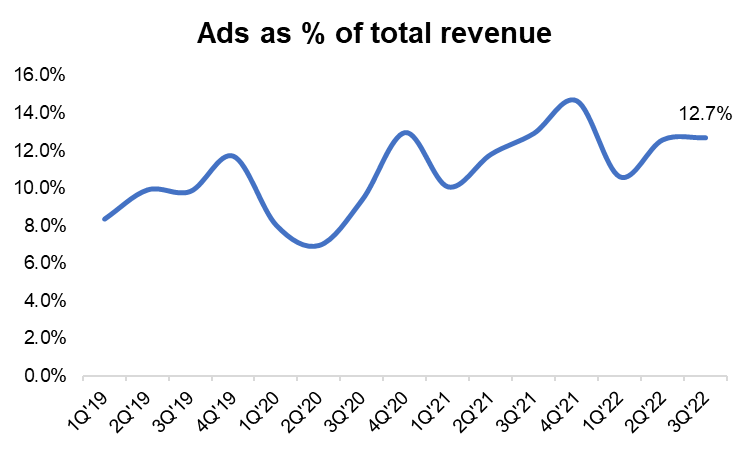 Number of advertisers and podcast related data seem encouraging.
the number of advertisers that are participating in SPAN, that continues to move up
"We've seen podcast MAU as a percent of our total MAU continue to increase. It was up again in Q3. And then podcast consumption per podcast MAU is also up year-on-year"
Gross margin
Of course, gross margin is the real challenge with Spotify. So, what happened last quarter?
Gross margin for Premium went down by 100 bps YoY, but the gross margin for ads declined from 10.8% in 3Q'21 to 1.8% in 3Q'22. The irony of getting into ads to improve overall margin is turning out to be a bit comical. Spotify thinks it is still possible, but needs more time to build the whole ad ecosystem/infrastructure.
Detailed explanation on gross margin miss is below:
Turning to gross margin. Gross margin of 24.7% was below guidance by 50 basis points. There are 3 factors that contributed to the results and in order of significance. First, the expected renewal of a large publishing contract outside the U.S. resulted in an accrual adjustment this quarter. The adjustment reflected revised estimates spanning the previous 9 quarters. And while the amounts were immaterial in any single quarter, taken together, they added up to a material impact in Q3.
More explanation on this accrual was given later in the call:
As many of you know, often times, we have relationships with our royalty partners. And some of the times, those contracts expire. And as we are negotiating new contracts, we estimate as best we can what we think the expenses we need to incur during that period of time. Normally, and in most cases, we're always very conservative. In most cases, it results in us actually getting a slight benefit when we actually settle the contract. In this case, it was a very modest impact. The reason it mattered in this quarter is because the contracts have been expired for over 2 years. And so it was 9 quarters worth of small little adjustments over 9 quarters that we had to take in this quarter.
What were other two reasons for gross margin miss?
And second, like many, we did experience some impact to the top line advertising growth from the macro slowdown, and this shortfall had a modest impact on margin. And third, currency fluctuations, mainly the continued strength in the U.S. dollar, had a small impact on cost of revenue. Historically, currency has had a big impact on operating expense and a somewhat minimal impact on cost of revenue. However, given the significant strength of the dollar, it has started to impact gross margin as well
LTV/CAC
"the lifetime value of a user, is the primary tool we use to inform our business decisions and judge whether our strategy and investments are working and achieving better outcomes."
If it were indeed the primary tool to inform Spotify's business decisions, I think Spotify should disclose and report the LTV calculation for its shareholders.
Spotify is optimistic that CAC will come down during the downturn:
"We will make new investments with 2 criteria in mind. First, it must be accretive to margin over the investment period given this new hurdle rate. And second, over the long term, that investment must strengthen our value proposition to users and creators alike. This said, new opportunities will likely emerge in downturns. As an example, we may find that our customer acquisition cost goes down as the cost of advertising typically declines in a softer market. This would then offer us a clear opportunity to grow our market share even in a challenging economy because we can acquire users at lower cost relative to LTV."
Expense growth
Growth in the quarter was slightly lower than forecast on a currency-neutral basis
Currency continues to be a big impact, adding $85 million to operating expenses or just over 14 percentage points of year-over-year growth.
I think you can expect that dynamic of revenue growth and expense growth to flip from where it's been over the past couple of years and start to see that focus shift in sort of how we manage the business.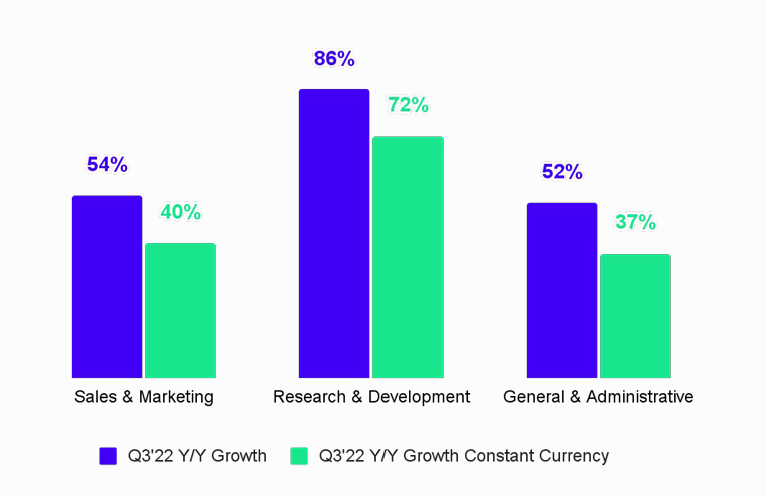 Outlook
Gross margin outlook is negative too. Detailed explanation here:
Our gross margin outlook for Q4 is 24.5%. We recognize this is likely a bit below what many of you have been expecting based on our commentary, exiting our Q1 results for a gross margin of around 25% for the balance of the year. The variance between these figures is primarily a result of 3 factors.

One, including the softening macro environment over the course of the year, which is reflected in the current advertising slowdown, we also see another quarter of negative currency exposure. And last Q4 includes a restructuring charge at our podcasting business, which should lead to improved productivity at select studios on a go-forward basis. All in, we anticipate approximately 70 basis points of impact from these 3 items with the impact spread roughly evenly across each.
Overall, while Spotify's premium and MAU user growth look very encouraging, the stock seems unlikely to get out of the penalty box, especially in the current environment unless and until they make noticeable and persistent improvement in gross margin.
You can read my Spotify Deep Dive (December, 2021) here
I will cover Meta's earnings tomorrow!