Disclaimer: I own shares of Adobe
"It is the golden age of design. Everybody would like to express themselves." Shantanu Narayen, CEO of Adobe
While the days of 20%+ topline growth is clearly behind us, Adobe remains the juggernaut in creativity software industry.
Digital Media, Digital Experience, and overall revenue in 4Q'22 increased +13%, +16%, and +14% YoY respectively (all FXN).  

More encouragingly, Creative Cloud just had the best net new ARR quarter. While we typically see an untick in net new ARR in Document Cloud in Q4, there wasn't any this time. Why?
"it's important to remember that some portion of this is also -- the Acrobat business is also represented in the creative business. So the Acrobat growth number is probably a bit understated in this point."

I'm not sure I have ever seen any company reporting 96% gross margin before, but Digital Media's gross margin remains steady at ~95-96% despite the FX headwind. Digital Experience's gross margin increased by 55 bps YoY to 66.0%, and overall company's gross margin was 87.4% last quarter.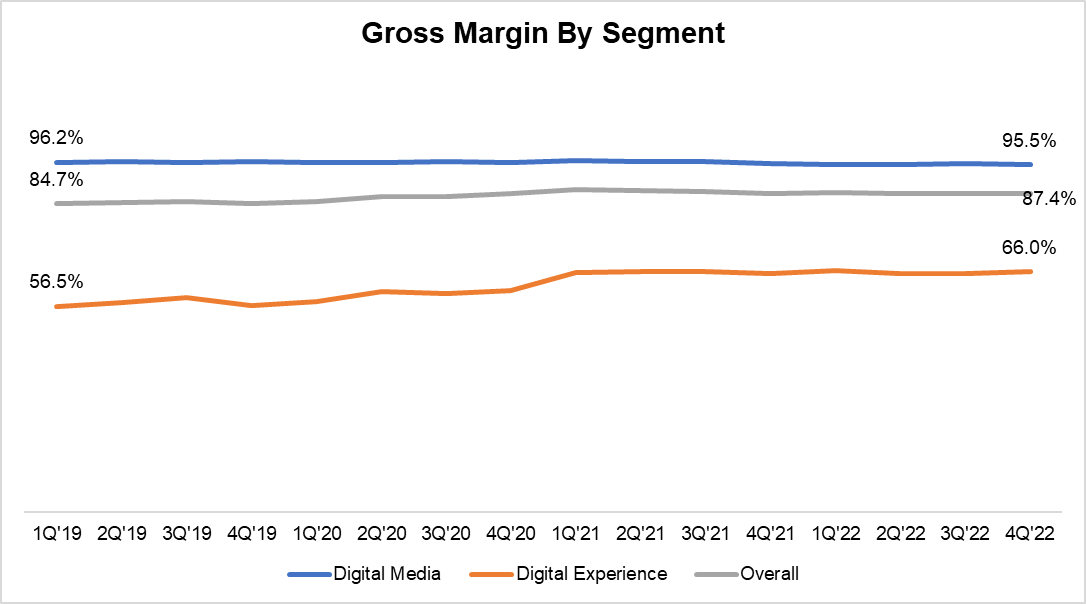 With such skyhigh gross margin, it is not a surprise that a scaled company such as Adobe is ~33-35% GAAP EBIT margin business.
Thanks to net working capital benefit and SBC, FCF is consistently materially higher than operating margin. There's not much sign of SBC leverage, but as I explained here, you shouldn't expect SBC as % of revenue to go down anytime soon.

Adobe has ramped up its buyback activity this year, declining ~3% shares outstanding. ~89% of last year's FCF was used to repurchase its shares.

On the product side, Adobe Express, which is a direct competitor of Canva, remains a major focus for the company:
Express' unparalleled collection of stock images, videos, fonts, design assets and templates and its unique integration of AI Magic from Photoshop, Premiere Pro and Acrobat enable us to deliver the best of Adobe to customers of every skill level. Q4 continued to see exciting growth with millions of monthly active users, greater than 40% quarter-over-quarter visitor growth in the U.S. and an NPS greater than 50.
Our primary focus has been and continues to be right now around usage, repeat usage and utilization. We are seeing, though, while that's our primary focus, we are seeing a lot of really interesting data coming in suggesting that we -- that the upgrade has are -- while still early and not our primary focus are working. For example, in many higher ed institutions where we've started to deploy Adobe Express, we're starting to see not just the increase in terms of usage of Express, but we're also starting to see increase in demand for Adobe Creative Cloud flagship applications
Regulatory review on Figma acquisition is going "as expected".
Overall, the regulatory process is proceeding as expected. The transaction is being reviewed globally, including by the Department of Justice and the Competition and Markets Authority in the U.K. We are currently engaged in the DOJ's second request process. We expect that the transaction will also be reviewed in the EU.
While RPO may seem to be rapidly decelerating, there is ~3% FX headwind. Even FXN, there is definitely signs of pressure on growth.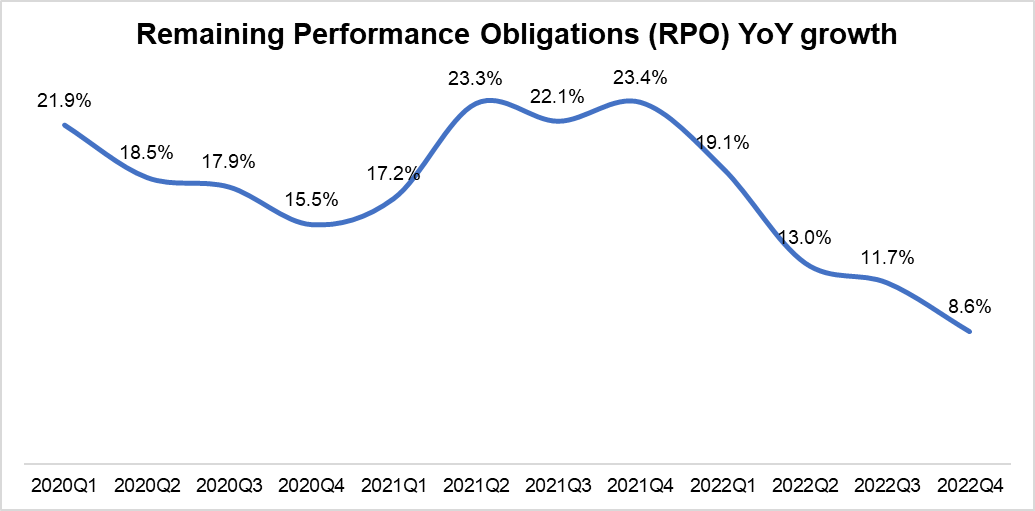 Adobe, however, is seeing retention to be better than pre-pandemic:
I think we also shared that we're seeing usage of products continues to stay very strong as we bring in these new audiences. And we're starting -- and we're seeing retention continue to tick up and improve. And in fact, retention now is better than it was pre-pandemic as an example. So we continue to bring in new users. We continue to retain those new users and we see organic opportunities to move them up and upgrade them.

Adobe re-iterated its guidance for 2023 shared on Analyst Day in late October. If they can indeed grow revenue by 13% in 2023 which increasingly seems to be consensus recession year, it will be quite the feat compared to last recessions. In 2001 and 2002, Adobe's topline went down 3% and 5% respectively. In 2009, revenue went down by 18%!
Switching to subscription business model has indeed worked wonder for Adobe.


Adobe Deep Dive (August, 2022)
As promised, I will publish my Deep Dive on Sherwin Williams on December 20th!