IAC 4Q'22 Earnings Update
Disclosure: I own shares of IAC
The world was priced for perfection, digital companies broadly focused on growth at all costs, and "basic" was a tacit insult.
Not anymore! IAC's theme for 2023 is "Back to Basics: clear objectives, relentless prioritization, focus on profitability and return on investment."
Here's my highlights from today's call and the latest shareholder letter.
ANGI
Lots of interesting new data points disclosed this quarter, but ANGI is doing another pivot which is admittedly a bit exhausting to anyone who's following this company for a while.
It's been around for almost two decades and still needs plenty of adjustments to be "Adjusted EBITDA" profitable.
So, what's the latest pivot?
"In Q4, we began to focus heavily on high-volume, repeatable, lower average-order-value jobs, and we will exit the more complex services entirely in 2023."
ANGI is going to focus on its legacy ads and leads business (customers pay SPs i.e. Service Professionals), and high-volume fixed pricing projects (customers pay to ANGI and ANGI pays to SPs after taking a cut).
Ads and leads had ~13% adjusted EBITDA margin in 2022 and everything else was unprofitable.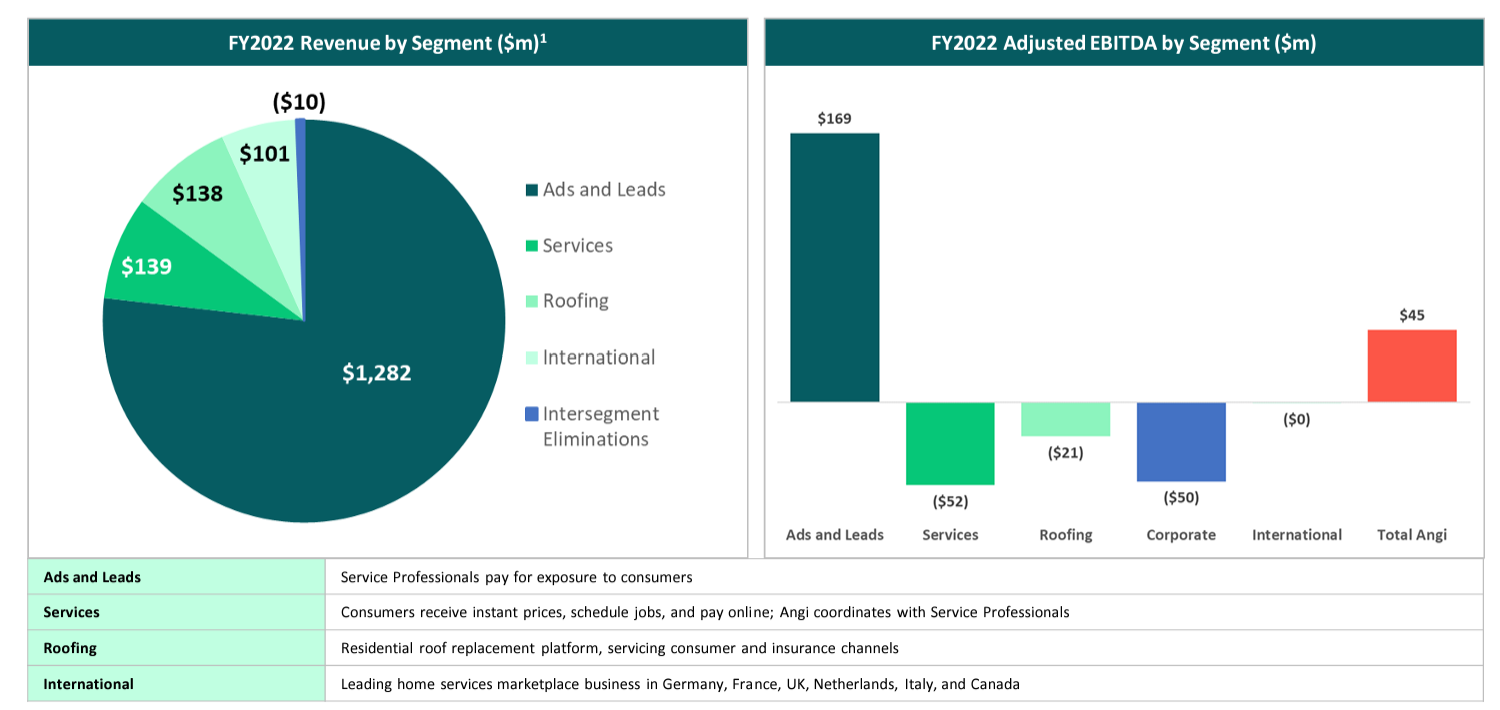 Ads and leads business seemed to have hit a trough in 1Q'22 and since then, both topline and margins are growing again.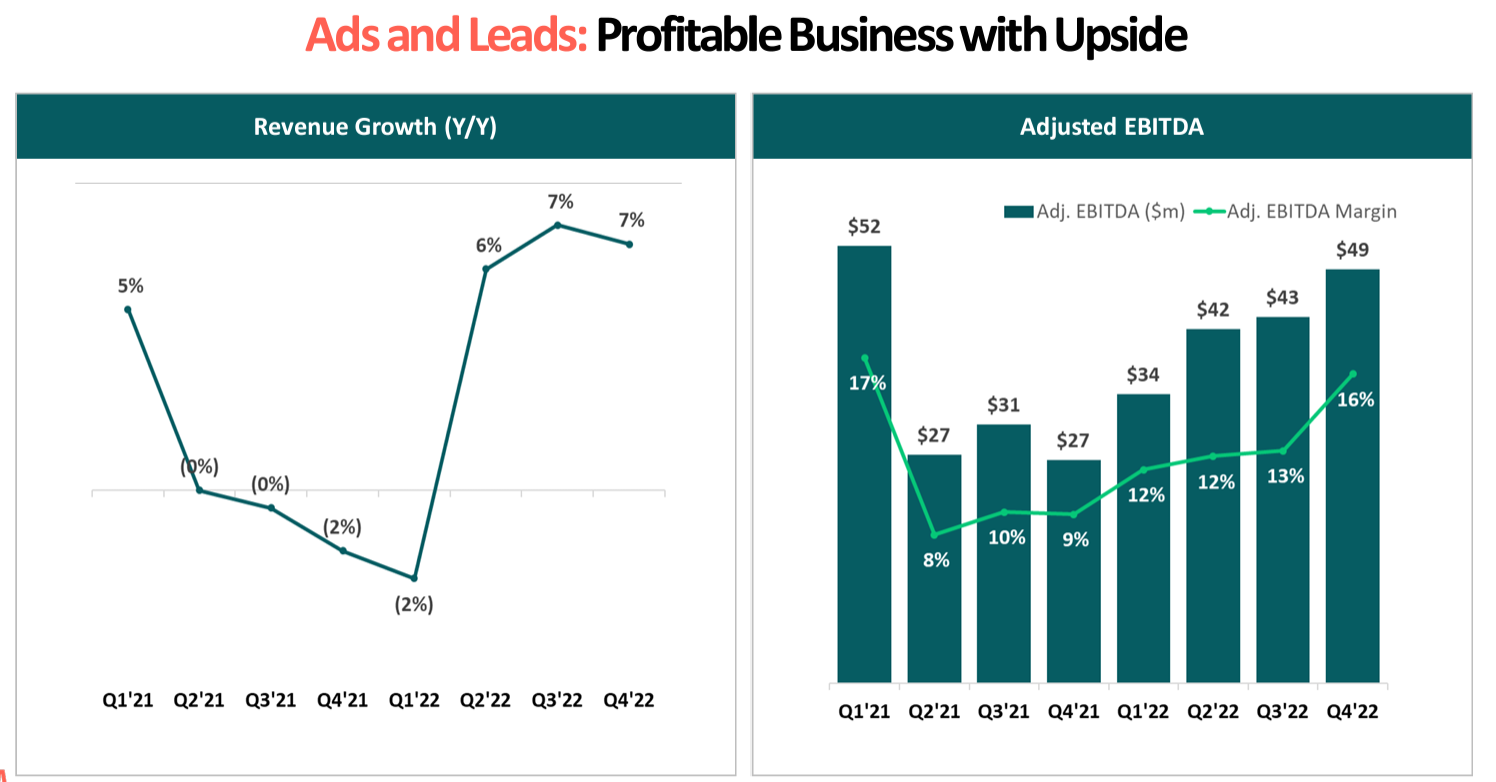 ANGI's foray into fixed pricing service business didn't pan out well. As they are leaving the complex jobs, they expect things to improve a lot and last two quarters trajectory does seem a bit encouraging.
Also, services is switching to net revenue reporting from next quarter.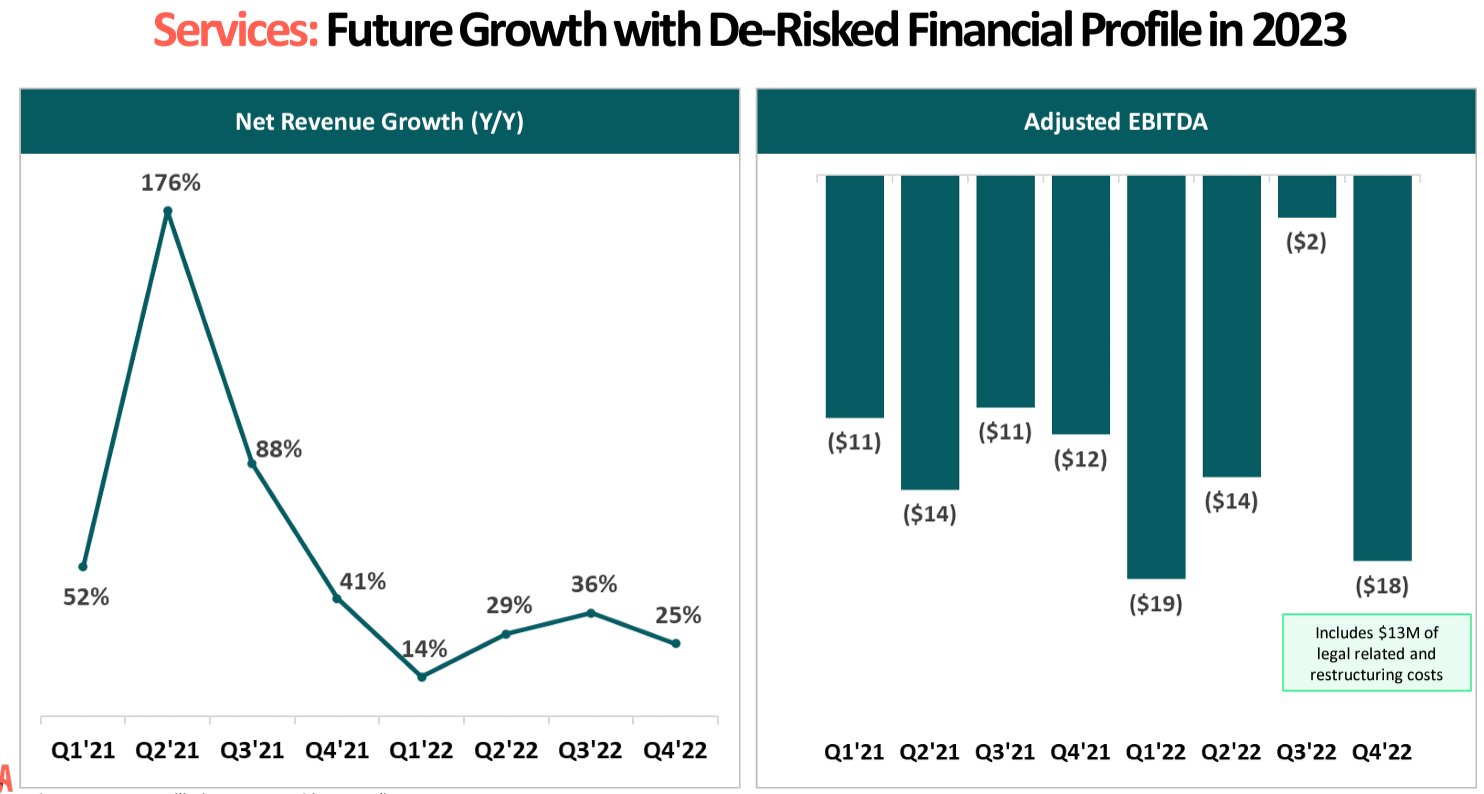 Unit economics of the service business is finally going in the right direction. While ANGI's take rate was only 5.2% in 2022, it increased to 11.3% in 4Q'22. Again, it does seem leaving the complex job market can lead to a more healthy unit economics.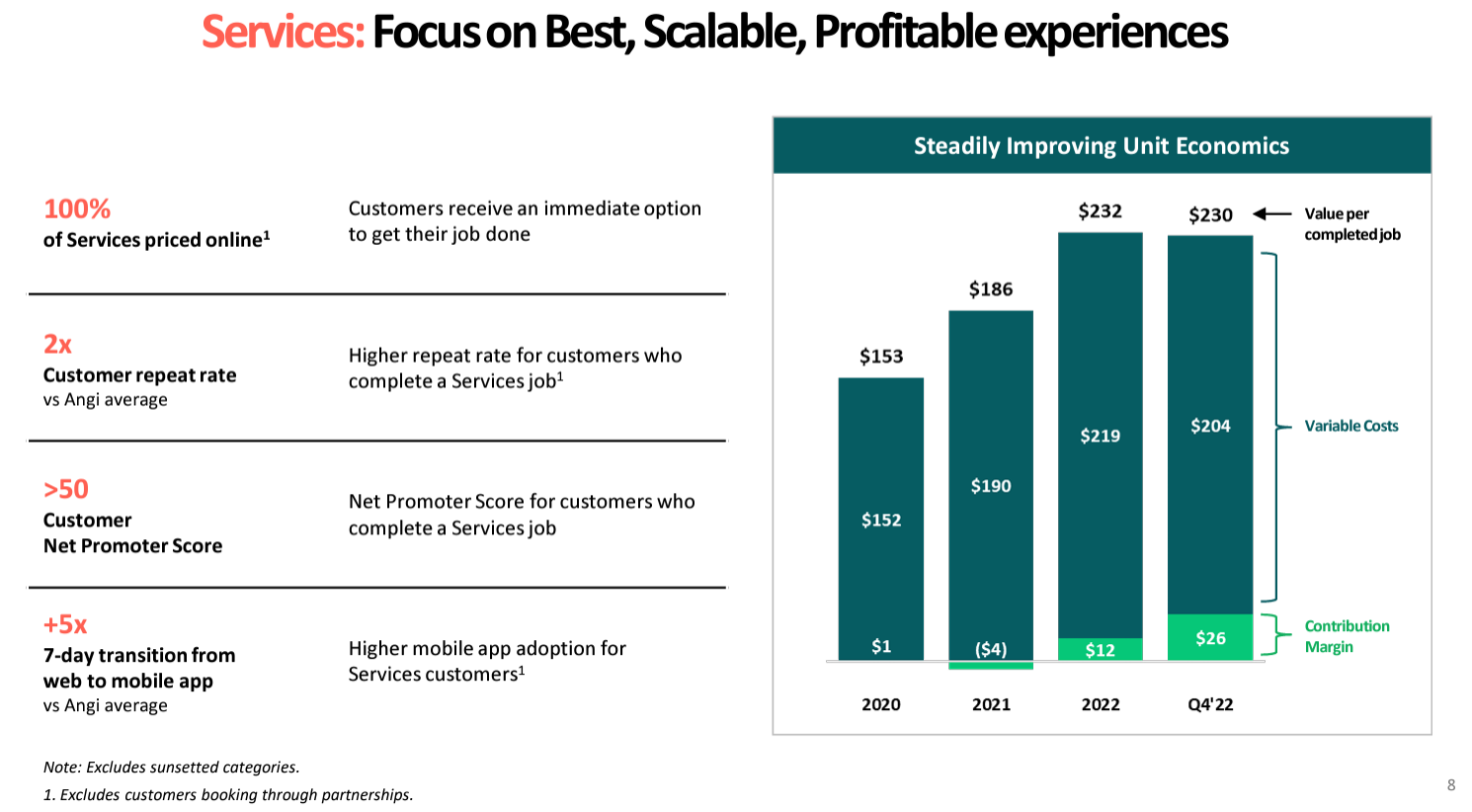 There's the reality that a lot of service professionals have to try out our platform, and it doesn't work for everybody. That's been true forever and will be true forever.

But the service professionals that it does work for, which is about 1 in 4 reached the 1-year milestone, those service professionals that it does work for stay for a very long time. They stay on average 4.5 years, and they now comprise 60% of the service professionals on our platform.
CEO Joey Levin indicated the retention could improve from 25% to 35%, but at a 20-year business, it's probably hard to improve that number materially.
ANGI is targeting $60-100 mn Adjusted EBITDA in 2023. Given that SBC will be $40-50 mn this, it will actually be barely profitable. Well, let's hope that the business can operate 2-3 consecutive years without another pivot.

Management thinks that beyond 2023 ANGI can be a double digit grower with room for margin expansion:
we do expect gross profit to grow mid-single digits across the overall Angi business this year really due to even if total revenue is flat, favorable mix between Ads and Leads and Services
On the long-term revenue growth and margins, we think this is -- should be a double-digit revenue grower. Again, 2023 is going to be choppy because we're removing some empty calories and changing a bunch of things in the business.

But kind of after 2023, a double-digit revenue growth is absolutely achievable with expanding margins.
Dotdash Meredith
Aggregate traffic volumes across the portfolio is still down circa 5% to 6% mainly driven by real weakness in a number of the historical Dotdash sites that just had large booms during the pandemic and Omicron, Investopedia, The Spruce, others.
overall, for the year, we -- both traffic and revenues aim to get to flat at some point in the second quarter, see growth in the second half and drive to growth for the full year.

Growth and profitability will come from a couple of things: cost actions we've taken, including a reorganization that we have actioned recently; and then also just scale on high-margin digital revenues.
Of course, there was a question about ChatGPT. But it's a valid question as an analyst provided context to the opportunity/threat posed by chat bots :
On one hand, you could potentially produce content much more efficiently in the future. On the other hand, SEO traffic might be negatively impacted.
IAC, as you can imagine, thinks it is more of an opportunity than threat:
Every new technology is a threat and an opportunity, and we certainly think about them in both ways.
There's a big difference if you want to draw the line between commodity content and differentiated content. And I think that commodity content, which I'll call kind of text-based content, has been threatened or significantly removed but -- from the search engines for a long time. It exists on the search engines and SEO, but generally, they hold on to that traffic count. So something like greater than 50% of traffic doesn't leave Google anymore.
The format of that may change on the search engine itself, but we're not counting on that kind of traffic and haven't relied on that kind of traffic from the search engines for a long time. And you could argue in that context, again, that brand is even more important. Voice is even more important.
Care
Care delivered a solid year of 10% revenue growth, despite slowing consumer demand and lapping challenging Enterprise comparables driven by robust corporate demand for back-up care during the pandemic.
Vivian
Vivian, a leading health-care jobs marketplace focused on simplifying the hiring process for health care professionals, agencies and hospitals, more than doubled revenue in 2022.
There was no question asked about Care, Vivian, or Turo.
Capital Allocation
After buying back $23 mn, $64 mn, and $24 mn in the last three quarters respectively, IAC repurchased just $1 mn shares in 4Q'22 even though stock traded at much lower level in 4Q than any other time in 2022.
I wonder whether IAC is getting close to do a deal and hence, not utilizing the cash for buyback. IAC hasn't hinted at anything concrete, so just speculation on my part.
Valuation
If you add IAC's ANGI and MGM stake, that's worth $44/share. IAC bought Meredith for $2.7 Bn in 2021; let's assume the whole DotDash Meredith business is worth that today (~10x 2023 adjusted EBITDA), that's another $31/share. If we assume ~$1 Bn corporate costs ($12/share), ANGI+ MGM+ Dotdash Meredith -Corporate costs =$63 per share while the stock is trading at $54/share. Of course, I have assumed Turo, Care, and Vivian etc. to be worth zero.
Well, the valuation math can change if chat bots make Dotdash Meredith to be worth zero. We are almost always taking a risk (knowingly or unknowingly) even when it may seem it's difficult to lose money from such and such cheap valuation.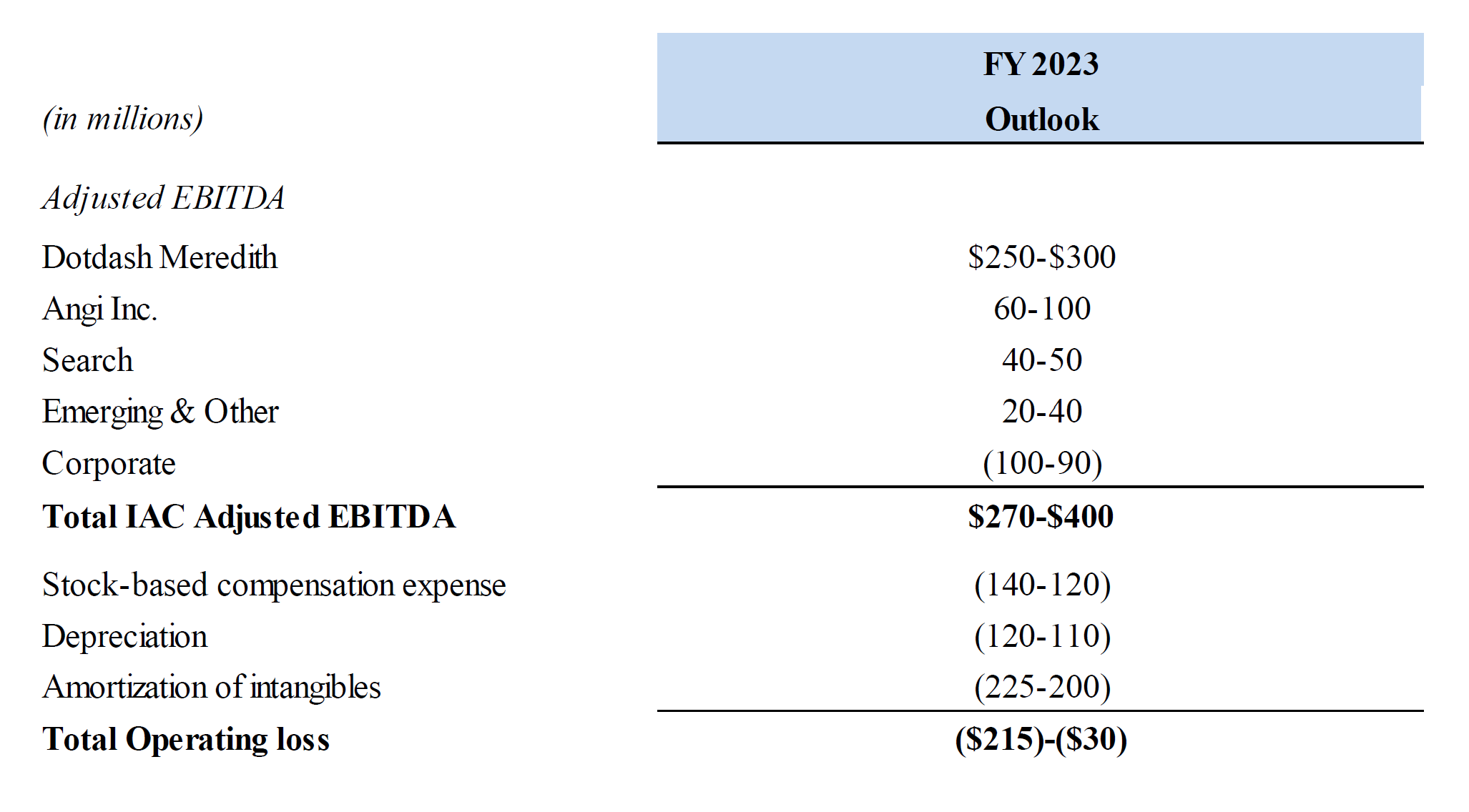 I will cover Shopify tomorrow.