IAC 3Q'22 Earnings Update
Disclosure: I own shares of IAC
Perceptions of both IAC and Angi have swung from extreme confidence to extreme skepticism. We could all challenge the rationality of the extremes, but the general shift in sentiment has been warranted: Joey Levin
Here are my highlights from the recent shareholder letter and earnings call.
Angi
As Levin became 4th CEO in the last 5 years, he started with admission of past mistakes. He seems to be aware that good letters aren't going to cut it anymore; only way to get out of the hole is to execute on the business, just as he did with Vimeo and Mindspark.
Not only did we burn capital, but we spread it too thin and lost focus on some fundamentals.
Skepticism is warranted here given our recent results, but I want to be unequivocally clear that I don't share it.
When I became CEO of Mindspark in 2009, the first business I ran for IAC, the business had just dropped to nearly breakeven in its most recent quarter, after delivering profits for years. The trends were bad, but we had nine figures of annual revenue and a bright and committed team and rightly believed we had enough clay to work with. When I went to be CEO of Vimeo, we had a similar story. I acknowledge that being Angi's fourth CEO in five years is not confidence-inspiring but I take on the role of Angi CEO with a head start, having served as Chairman through the challenges of the past few years, not dissimilar to the situations at Mindspark and Vimeo.
Following the brand changes, Angi is still missing $100 mn annual profit from traffic coming from search engines. Levin is more focused on balancing growth AND profitability:
I think we have to deliver for 2023, and I think we have to deliver more profit for 2023, and I think we're totally capable of doing that.
Dotdash Meredith
In hindsight, we timed that acquisition poorly: both Dotdash and Meredith have experienced headwinds throughout the year, with soft traffic compared to extraordinary pandemic audiences and an unexpectedly weak digital advertising market.
Three reasons for softness for this business:
a) Ad market: "Premium and programmatic advertising across a broad range of industries represent roughly 65% of Dotdash Meredith's Digital revenue...Advertisers responded to inflation and changing consumer spending patterns by materially scaling back spend, in some cases by more than 25% vs. first half 2022 and prior year levels."
b) Integration execution: "Dotdash had acquired and integrated nine properties previously, but the scale of the Meredith acquisition was at a different level."
c) One-Time Costs: "Through September, we have recorded $60 million in charges deriving from restructuring costs, real estate impairments, severance and other activities. All of these are non-recurring and relate to the 2022 fiscal year"
While there have been integration challenges, by and large it still seems plausible that over time these challenges can be rectified:
"In prior acquisitions, Dotdash has seen migrated sites initially decline in traffic following a migration, before visits stabilize and then grow at about the six-month mark, as shown in the table below:

The following table summarizes the performance of migrated Meredith sites to date, detailing months since migration, performance against the benchmarks above, and the relative size for each site: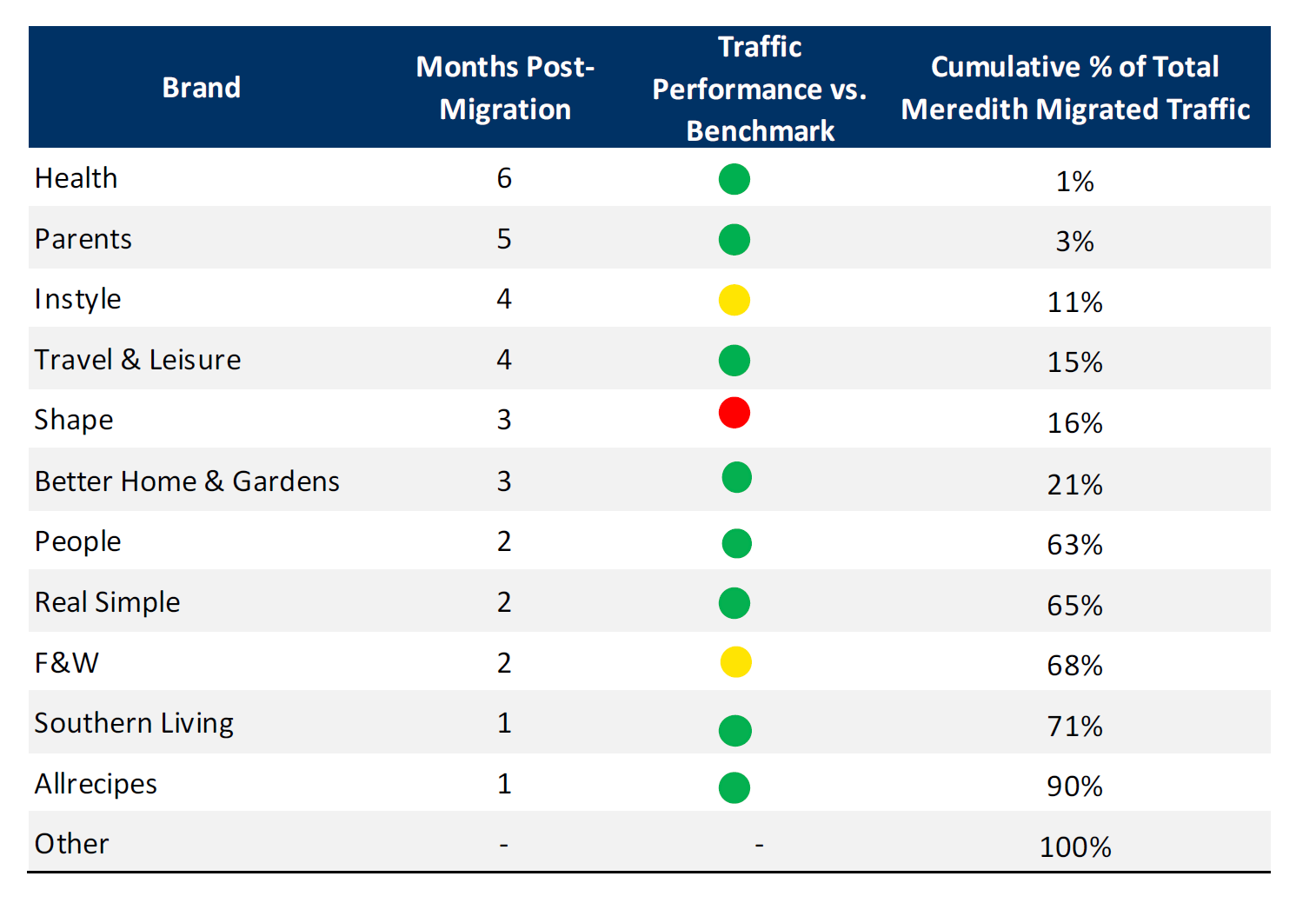 IAC guides flat revenue for Digital ads segment in 1H'23 and then growth in the latter half with the caveat of macro:
we believe we can get to flat Digital revenue in the first half of next year without a material improvement in the advertising market, and flip to growth for full-year 2023, provided the economy and market do not substantially soften.
Adjusted EBITDA guide for 2022 down from $300 mn to $240-250 Mn, primarily driven by declining digital ad revenue as Print and expenses outlook remain similar.
How about $450 Mn EBITDA guide in 2023?
"I think realistically, we're probably 1 to 1.5 maybe years behind schedule."
Care
We've also executed reasonably well at Care, repositioning a challenged company and growing revenue over 70% since acquisition, with increased profits.
Bluecrew
IAC sold Bluecrew to EmployBridge, "the country's largest light industrial staffing company",  for $50 Mn cash and equity to become a minority shareholder with a board seat at EmployBridge. Bluecrew had gross margins in the teens, so IAC probably felt it needed better to scale build a more sustainable business. Selling Bluecrew will almost eliminate LTM $26 Mn loss from adjusted EBITDA.
Vivian
Vivian Health, our leading healthcare-jobs marketplace, continues to take share, growing revenue 77% in the third quarter.
Valuation
Joey made the following pitch on IAC's valuation: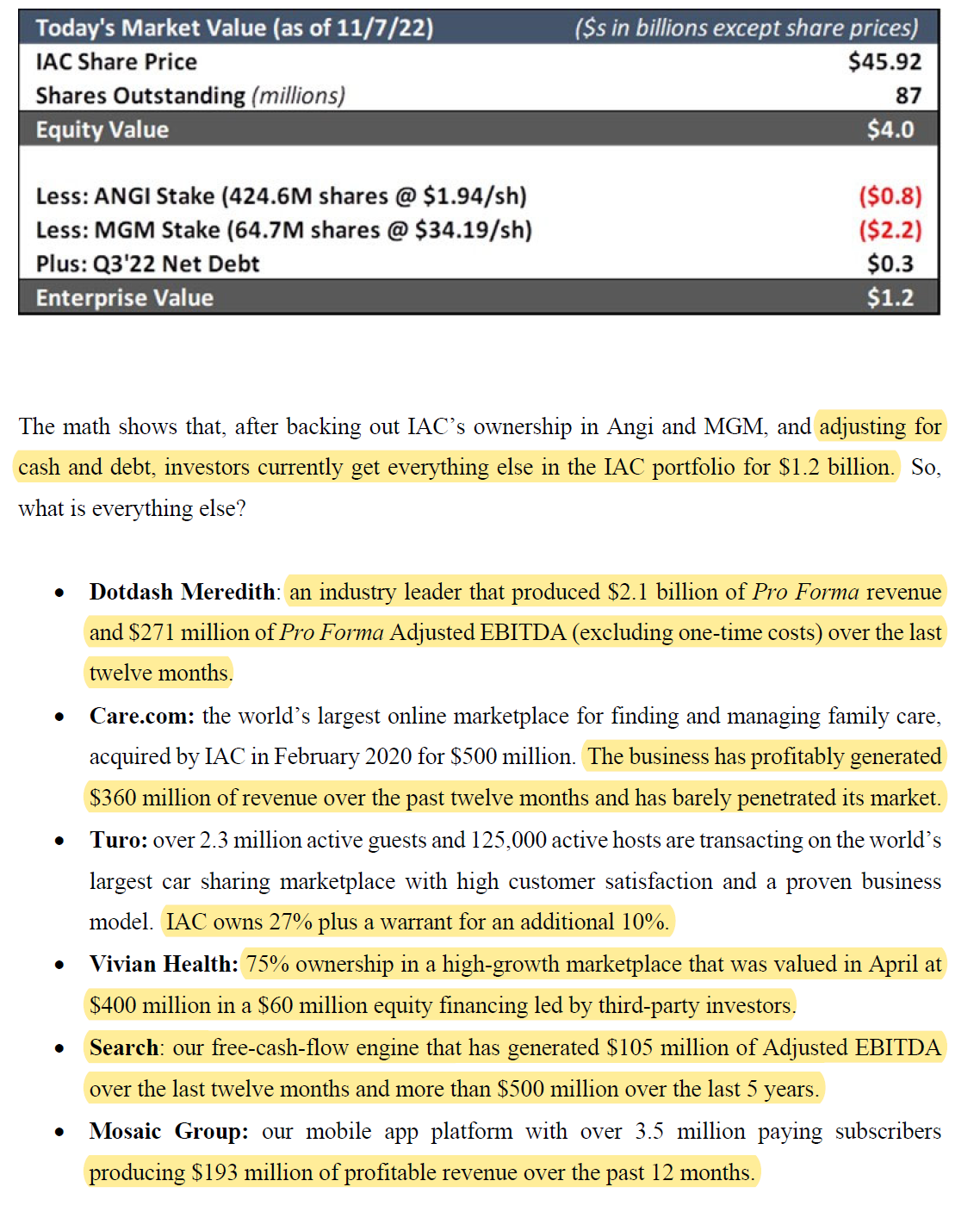 An analyst asked why the disconnect between the SOTP (Sum Of The Parts) valuation and how the market is pricing IAC? This is what Joey said:
the primary source of the disconnect is execution. And then the other source of the disconnect is, as is the case in any sum of the parts, what people are focused on is the ability to access the parts, and there's probably a perceived time or gap between now and ability to access the parts. That's something I've talked about a lot, that doesn't really worry me and everything that we have. We maintain that optionality. That option has value. The value of that option doesn't really decline. And so we don't feel real pressure to exercise those options. But the thing that we have done in realizing value on those things over time is we have certainly demonstrated an ability and willingness to exercise those options in tax-efficient ways.
Right now, that's not a high priority focus for us. The focus for us is execution against all of our businesses. And then those options will become available or more exercisable over time. And that usually shrinks the discount.
While IAC started disclosing monthly metrics post-pandemic, those won't be disclosed monthly after December 2021 and will go back normal cadence of quarterly disclosure.
I will publish my Deep Dive on Datadog in a couple of weeks. You can explore all the past 26 Deep Dives published so far here.