IAC 2Q'22 Earnings Update
Disclosure: I own shares of IAC
"We want our shareholders to feel their capital is safe with us...that it's our responsibility to help that capital grow healthily by building businesses and creating opportunities our shareholders may not have the chance to access on their own."

IAC is seeing a "notable disparity in behavior between consumers and businesses"
Let's dig into the businesses IAC owns one by one.
Dotdash Meredith
"We had hoped to have nearly all the Meredith properties migrated by this point, but we'll finish in Q3 and the benefits will show up more in 2023 than 2022."
"We're not moving as fast as we'd like, and I don't think we have the support from the ad market that we expected"
Rapid pullback in ad spend among retail, CPG
Pro-forma Digital is down 7% which is half self-inflicted (migration of Meredith properties) and half macro
"our comps at Dotdash Meredith do get easier in the fourth quarter, the -- especially at the Meredith properties, which were quite slow at the end of last year, probably due to distraction due to the acquisition"
Still expects $300 Mn Adj. EBITDA this year, but ruled out $450 Mn Adj. EBITDA next year considering the macro and advertising market. During Q&A, management mentioned they may get there 6-12 months later.
ANGI
"After a challenging two years, we are starting to see the light at the end of the tunnel, and we're reasonably confident it's not another train approaching head-on."
It almost feels like a bit of deja vu reading that line as I feel like we have been told something along those lines a few times.
So, what new problems ANGI encountered recently?
"we've had some pretty significant operational challenges in Roofing. Those have been primarily around pricing"
Revenue for Roofing was $14 Mn in 2Q'22, but came down to just $9 Mn in July (vs $11 Mn last yr)
As housing is cooling down a little, demand for ads and leads from Pros is trending up mid to high single digit.
Angi Key members ~300k now (vs ~200k in 4Q'21)
2H'22 EBITDA will be higher for ANGI than 1H'22 as they start focusing more on profitability vs growth.
Care
Consumer business has been decelerating fast (from 30% in April to 18% in June), but the trend will be clearer over the course of back-to-school season
Enterprise business has seen corporate customers defer procurement decisions.
Other
"Bluecrew worker-shifts requested by its client base in June was flat year-over year following strong growth earlier in the year and now declining in July, led by Retail, Warehousing and Logistics customers, while Vivian's healthcare job volumes continue to grow steadily."
Not much discussion on Turo (or potential IPO of Turo).
Buyback
IAC, for the first time since 2018, repurchased 735k shares ($59 Mn) at an avg price of $80.38 in 2Q'22
"we believe the embedded value of the portfolio represents a compelling opportunity to buy in the stock. Fortunately, we haven't emptied our wallet yet. IAC has $1.2 billion of cash and no debt at the parent level, and now's a good time to have capital, conviction, and a long-term view."
Valuation
IAC is a collection of challenged businesses these days, but SOTP remains compelling which perhaps explains why they're buying back stock for the first time since 2018.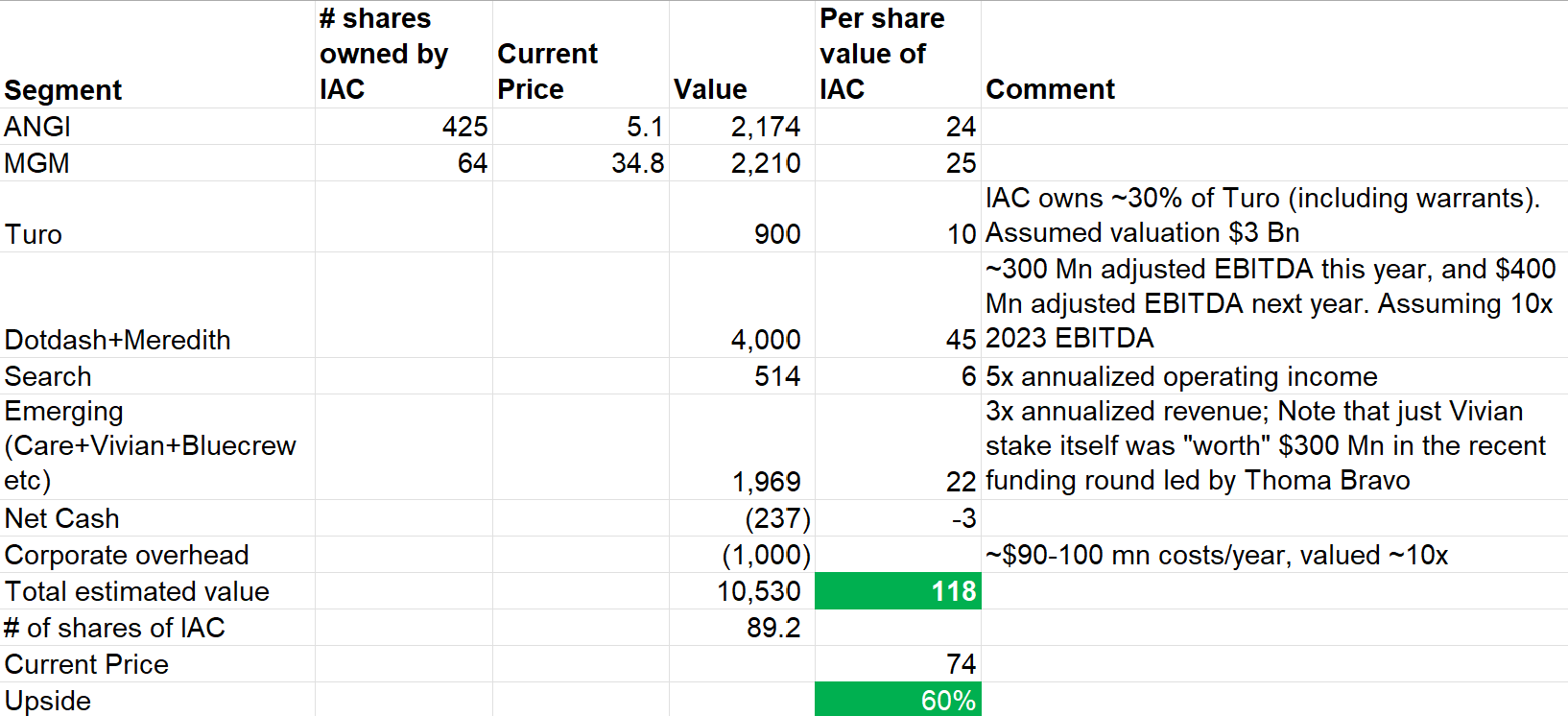 I'll publish Adobe Deep Dive on August 22nd, and cover Autodesk's earnings on August 24th.
You can browse through IAC's earlier earnings here: Earnings Call 4Q'20, 1Q'21 , 2Q'21, 3Q'21, 4Q'21, 1Q'22