Uber has become a verb. When we search for something on the internet, we google it. When we want to avoid the hassle of parking in NYC, we Uber over to meet our friends. The narrative of "verb" investing is powerful enough to create a compelling and engaging investing thesis.
But let's not forget we mostly don't "skype" anymore.
There is hardly any doubt that Uber has created enormous consumer surplus over the last decade. Given I just recently bought my first car, I have used Uber's services hundreds of times in recent years. I am, generally speaking, a satisfied customer and true to Peter Lynch philosophy, I wanted to dig deep to see whether I like the stock too.
I do not want to keep you in suspense; it turns out I am not a fan of the stock even though the stock is down ~25% from its IPO price in 2019.
In this deep dive, I will first discuss Uber's Total Addressable Market (TAM). Then I will focus on how exactly Uber makes money, which will be followed by more in-depth discussion on the cost structure of the business, and its potential path to profitability. Finally, I will discuss the valuation of Uber, and why I am not comfortable with the embedded expectation in Uber's stock price.
Uber TAM
Ride hailing services:
Uber in its S-1 defines its TAM to be "all passenger vehicle miles and all public transportation miles in all countries globally". However, for its "current SAM" (Serviceable Addressable Market), it narrows down the definition to "all miles traveled in passenger vehicles for trips under 30 miles" in 57 countries Uber currently operates.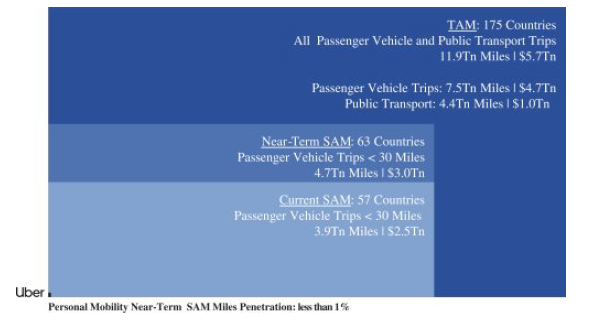 Considering 26 billion miles traveled on Uber's own platform, this implies market penetration of a mere 67 bps in 2018. Uber basically thinks even after 10 years of ride hailing operation, it is still day 1.
I do not think it is day 1. We are most likely moderately late to this ride hailing party.
I think Uber is overly generous in its TAM/SAM estimates, and much of the passenger vehicles under 30 miles trip is not really addressable by Uber or Lyft. To substantiate my point, let me elaborate by addressing the following questions: a) Who uses ride hailing apps? b) Why do people use Uber? c) What is Uber's penetration by use cases? and d) Can Uber expand beyond its current uses?
Who uses ride hailing apps?
In 2015, one-third of Americans did not hear about either Uber or Lyft. But three years later, only 3% Americans were unaware of ride hailing apps. This increased awareness led to higher usage of these apps from 15% of Americans in 2015 to 36% in 2018. These users are typically young (too young to buy a car or/and yet to have driving license), live in densely populated urban cities where parking is inconvenient and expensive, and affluent which is relevant given that ride hailing services tend to be more expensive over the long term compared to car ownership. When we look closer based on these characteristics, we see 50-70% of potential users have already been penetrated.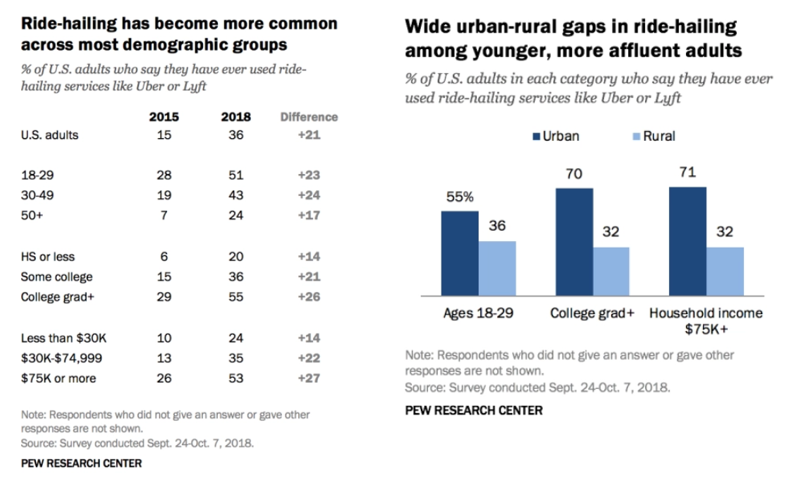 Why do people use Uber? What is the penetration of Uber by use cases?
Uber is the perfect substitution of taxis. Compared to traditional taxi services, Uber is certainly much more convenient. The liquidity of the platform is much higher and customers have much more consistent and secure experience compared to taxi services.
It is also much faster, albeit more expensive, alternative to public transit. As indicated already, ride hailing is more popular in densely populated cities. In fact, the top five cities namely NYC, SF Bay Area, LA, Chicago, and London contributed 24% of 2019 Gross Bookings of Uber. Expensive parking and lack of availability of parking is one of the major reasons for high adoption of ride hailing services. People who want to avoid the hassle of parking but can afford ride hailing services prefer Uber/Lyft in the cities.
Morgan Stanley last year published a chart that showed penetration of Uber by use cases. While I could not figure out booking mix by use cases, I do know from Uber's 10-k that airport related trips contributed 15% of Uber's Gross Bookings. Penetration on this particular use case is already ~25% for Uber. If we consider other ride hailing apps, penetration is perhaps already close to ~50%. Moreover, a full or close to full penetration is not realistic as people drop their closed ones in airport or come to pick them.
These use cases also pose a potential vulnerability of ridehailing apps. Airports are heavily reliant on revenues from parking which ridehailing apps allow drivers to bypass. For example, 27% of Charlotte's airport revenue in 2017 came from parking. As airports lose a significant chunk of their revenue because of ridehailing apps, it is very likely that they will come up with onerous regulations to deal with loss of revenue.
Similarly, ridehailing apps' popularity in cities made congestion problem even worse because of the deadhead miles which is defined as miles driven empty while looking for a customer. Deadhead miles vary from 40% to 60%, and to tackle this challenge, some cities such as NYC has levied $2.75/trip in certain areas of the city. Uber's concentration in certain megacities also imply a vulnerability to regulatory headwinds.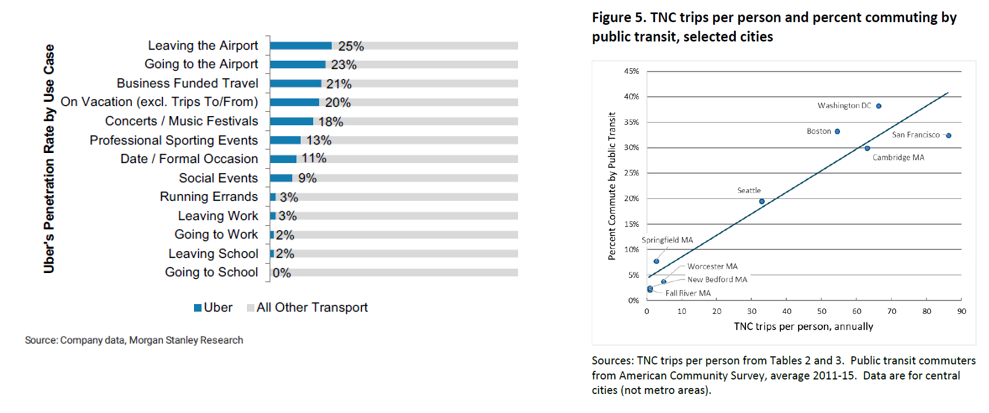 Therefore, the more important question for Uber is whether they can expand beyond its current use cases to diversify the rides revenue mix further. As you can see from the above image, the more frequent the trips are, the less penetration Uber has on those use cases indicating the lack of economic competitiveness of using Uber's services on a more frequent basis. The only way this can drastically change to allow Uber to continue its growth momentum and not revert to the mean is if they can disrupt car ownership altogether.
Disrupting car ownership is very unlikely both in the near-term and long-term
If Uber wants to disrupt car ownership and introduce "Transportation-as-a-Service" (TaaS), it has to make economic sense to a vast swath of people, not just the young and affluent class. But it frankly looks like a tall ask for Uber. A shared vehicle fleet will certainly have higher utilization than personal vehicles, but this benefit can be outweighed by deadhead miles. If empty cars roam around the city waiting to pick up passengers, it will add to the congestion problem, increase depreciation rate of the cars, and likely to lead to more accidents that can possibly result into increased congestion tax per trip and higher insurance costs per mile.
A shared vehicle fleet is certainly going to be cheaper compared to driving a high-end car. But people who buy expensive cars primarily want to make a fashion statement, and they are definitely not cost conscious. On the other hand, people who are extremely cost conscious can buy used car with tens of thousands of miles to minimize their capital investments on transportation. Uber will need to provide a decent enough car to attract all types of consumers, not just extremely cost-conscious ones.
Moreover, given the typical Uber ride is ~5-7 miles with duration of ~10-15 minutes, even a three-minute wait time adds ~20-30% extra to the duration of the trip. The wait time can exacerbate during peak time, and one bad experience during peak hours can nudge the customer to be prepared to call Uber even earlier than usual to avoid possible extended wait times. If you put some dollar value on your time, the costs can really add up over an extended period.
Moreover, Uber may find it difficult to increase usage beyond young people. Once you have a kid, traveling on Uber can become a challenge because of the unavailability of car seat for your kid. Uber has recently launched car seat option in some major cities, but it does charge extra $10 per trip for that. Running multiple errands can be more expensive on Uber than your car. If Uber wants to replace car ownership and be the kind of utility owning a car currently is for most people, it has a long way to go.
I have mostly used public transit and Uber in multiple cities for three years in the US before buying a car. One of the best benefits of having a car is the opportunity to go for a weekend trip that's two to four hours away from your place and spend some family time outside. It is, again, difficult to see how Uber can come up with something that makes economic sense and allow people to make these trips. Even for short but frequent trips, Uber just doesn't make much sense vs owning a car.
American Automobile Association estimates the cost of owning and operating a car in the US is 75 cents/mile. If you are using a public transit, it costs 27 cents/mile. Uber trip costs $1.6/mile globally and costs close to ~$2/mile in the US, indicating just how much Uber needs to improve its cost structure to make it a viable alternative to car ownership.
Perhaps one solution could be the introduction of self-driving cars. But self-driving cars also eliminate some important reasons for not owning car in the cities. It will save you from the hassle of parking as it will have the ability to park itself. The problems of drunk driving also become non-existent if you have a self-driving car. In fact, such a car can be an intimate personal space of yours that may entice you to own the car. Many of these arguments were shared by Clifford Sosin of CAS Investment Partners, half of whose portfolio is invested in Carvana.
I have no doubt that Uber is a significantly better service than Taxis. It can also reduce people's family car needs from three to two or one if the other cars are not as frequently utilized by the family. It will also take away some market from public transit in big cities. But I find it deeply unconvincing that Uber will be a threat to car ownership in general.
So what's the TAM for ridehailing then? It is extremely difficult to estimate. Based on the arguments laid above, I do believe the penetration is much higher than ~1% as claimed by Uber. I think Uber will have a very hard time going beyond its young, affluent, city living customer base, and penetration rate of Uber, although difficult to pinpoint, could be 20-25%. When you add the competition i.e. Lyft as well, ridehailing service's penetration is 35-45%. If it's 35%, we are looking at $140 Bn of TAM for ridehailing services, a significantly lower number than TAM/SAM Uber estimates in its S-1. Some tailwinds such as increasing urbanization and delay in obtaining car licenses do exist and may help expand TAM faster than the broader market, but it is hard to see how these mild long-term tailwinds stem the structural headwinds the ridehailing business faces in penetrating the broader market.
Given how fast the revenue has been decelerating for both Uber and Lyft, I think they will be subject to reversion to mean much faster than e-commerce (Amazon), social media (Facebook), or Search (Google). The recent growth trends for both Uber and Lyft indicate faster trajectory of reversion to mean.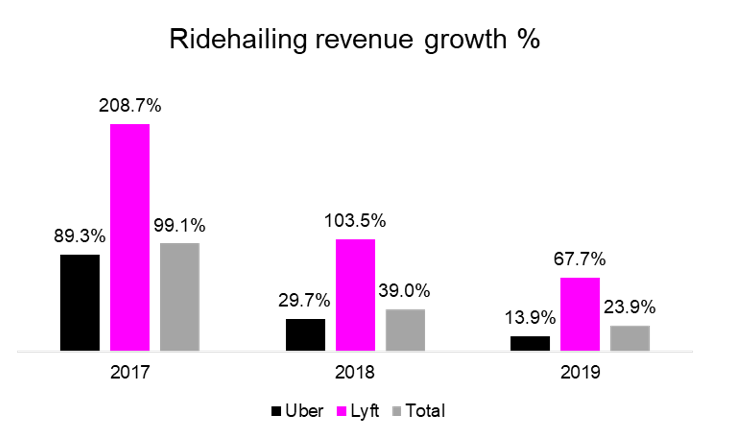 Food delivery:
Uber estimated SAM of its food delivery market to be ~$800 Bn. Based on 2019 Gross Bookings; this implies ~2% penetration rate. Given that Uber Eats was launched four years ago, the business was scaled pretty rapidly. Even though I sound skeptical in terms of Uber's ability to penetrate the broader mobility market, I am more optimistic about players in the delivery space to penetrate the broader SAM/TAM outlined by Uber. There is little doubt that many people prefer the convenience of food delivery and this market may continue to grow at a fast clip for a long period. While I do not question the topline growth story, the economics of this business is currently more concerning compared to ridesharing business which I will discuss in the following section of this report.

Other bets: Although Uber reports five segments namely, Rides, Eats, Freight, Other Bets, and Advanced Technologies Group (ATG), I will group everything else except Rides and Eats into "Other Bets" bucket to simplify the discussion. In 2019, these other bets contributed ~6% of the company's net revenue.
Uber Freight was launched in the US in May 2017. It is a freight brokerage business connecting shippers and carriers i.e. a marketplace to match these two players. According to Armstrong & Associates, the brokerage business is $72 Bn opportunity, which is ~10% of $700 Bn businesses spent on trucking in the US. Considering 2019 bookings, Uber has ~1% market share.
Uber also mentions New Mobility segment which refers to modes of transportations such as dockless e-bikes, e-scooters, Transit, UberWorks etc.
The ATG segment is working on the development and commercialization of autonomous vehicle and ridesharing technologies.
Overall, I broadly agree with Uber's strategy of increasing liquidity within the platform by integrating various modes of mobility into one single app. The fact that consumers who used both Rides and Eats had 15.9 trips/month vs 5.7 trips/month for an average consumer who utilized just one of these services shows the liquidity of the platform can improve significantly when more services can be chosen from just one app. Both sides of the market i.e. consumers and drivers will be benefited by increasing liquidity of the platform and that is why I prefer Uber's strategy to Lyft's focus on only subset of the mobility/delivery market.  However, I remain far less enthusiastic about the TAM for Rides as the penetration based on current use case is already high and growth can be under pressure sooner than people expect. Eats' TAM is unquestionably large, and the growth can persist for a long period unless delivery companies choose to go slow to target profitability. Other bets, although uncertain, also show us glimpses of potential for Uber. Therefore, even with my skepticism, there is no doubt that Uber's TAM is certainly large.
The economics of Rides and Eats
I will first discuss illustrative example of a ride/eats order and how the pie is generally distributed among Uber and drivers. Then I will elaborate on the rest of the cost structure of Uber to get a better sense of the overall economics.
Rides Economics
When a customer requests a ride through Uber app, he/she generally pays for the ride based on both estimated time and distance (ignoring any discount/promotions). The consumer also pays for a booking fee (which is 100% received by Uber), and tolls & surcharges (which is 100% received by government). When you add time and distance fare, booking fee, and regulatory tolls & surcharges, you get the Gross Bookings reported by Uber.
The driver's pay commensurately depends on distance, time, and any other promotions/incentives by Uber. The demand/supply dynamics always comes into play and prices can surge during peak ride hours.
Of the Gross Bookings, the driver typically takes ~70% of the bookings. Drivers can take potentially more than the 70% of the booking if there is an ongoing incentive program in Uber. For example, a driver could earn an extra $100 for completing 30 trips over three days or during morning rush hours, driver can earn extra $10 for completing three consecutive trips.
These "Driver Incentives" are recorded under Sales & Marketing line item in the Income Statement. Drivers can also earn extra by referring others to drive for Uber. When their referred person joins Uber to drive, both drivers get a one-off bonus which can vary from $100 to $1,000 depending on location and other factors. These "Driver Referrals" are also recorded in "Sales & Marketing" line item.
So for a $10 Uber ride, driver gets $7, and if the driver gets $1 on an average as incentives, Uber keeps the rest $2 which gets recorded as revenue in its Income Statement.
Then you have "Excess Driver Incentives" which Uber defines as "cumulative payments, including incentives but excluding Driver Referrals, to a Driver that exceed the cumulative revenue that we recognize from a Driver with no future guarantee of additional revenue". In laymen speak, if you pay $10 for your Uber ride, the driver gets ~$7, and if the incentives program Uber has exceeds $3, Uber records no revenue, and after allocating driver incentives to "Sales & Marketing", the excess incentives get allocated to Cost of revenue.
After deducting driver referrals (not shown in the illustrative example) and excess incentives, you get Adjusted Net Revenue (ANR). Uber defines its take rates as ANR divided by Gross Bookings.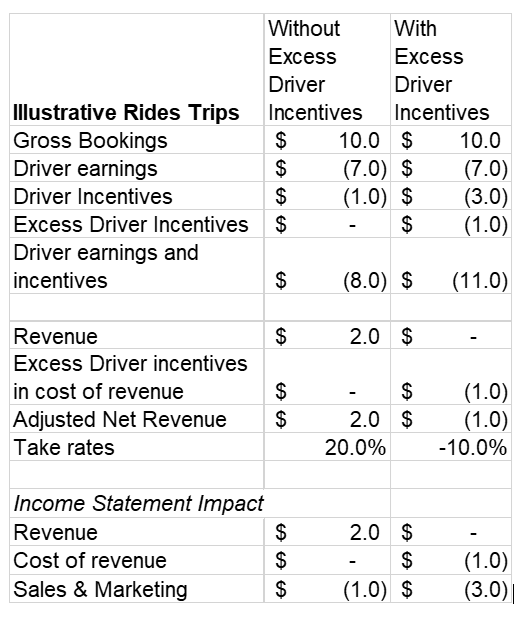 If we look at numbers for the last few years, we see Uber's GAAP revenue as % Gross Bookings has hovered around ~20%. Since of the Gross Bookings, Driver earnings is ~70%, credit card processing fees is ~2%, and regulatory charges is ~1.5% (assumption), the ceiling for Uber's take rates in the current business model of Rides is ~26-27% if drivers continue to get ~70% of the bookings.
Given Uber's revenue as % of Gross Bookings has been ~20%, where does the rest 6-7% get lost?
Both driver referrals, and excess driver incentives have been coming down consistently in last four years. However, it is the driver's incentives that show no sign of abatement. Please note Uber does not disclose the amount it spends on Driver Incentives. But if we assume 70% of gross bookings as driver earnings and deduct excess driver incentives, driver referrals, tolls & regulatory surcharges (assuming 1.5% of Gross Booking), and Uber's GAAP revenue from Gross Bookings, we can calculate the implied driver incentives Uber spent on each of the last four years. From this calculation, we can see in 2019, Uber, in fact, has spent 4.6% of its Gross Bookings on Driver Incentives which was the highest as a percentage of Gross Bookings in last four years.
Why don't driver incentives seem to go down?
Uber deals with two-sided network in the rides market: consumers and drivers. Both sides of the market can potentially be promiscuous in nature and exhibit little loyalty. When ridesharing apps try to enter a new market, they try to entice consumers and drivers with lucrative promotions and incentives. There is a local, not global, network effects at play in each new market. Even if Uber has significant market share in one market, it does not help dominate market in another geography. They still have to invest through the initial phase and create the network effects in each single market through incentives/promotions, especially if an alternative ridesharing app exists in that particular market. The objective is to reduce wait times for consumers and deadhead miles for drivers. The network effects, however, can hit an asymptote from consumers' perspective. More drivers mean reduced wait times for riders, but after a point, the value of additional driver diminishes to the rider.
The economics of ridesharing in a new city is not pretty; the rationale and hope is once they have enough market share, some market power will accrue and/or more rational behavior will emerge among remaining players which mostly come down to just two/three players in most markets. Therefore, there is very low barrier to entry to this market but potentially high barrier to success.
If customers receive more incentives/coupons/promotions in another app, they can just open Lyft/other ridesharing app and choose the cheaper option. Interestingly, drivers exhibit far more promiscuity than consumers. For example, while in 2018 only 34% ridesharing consumers used both Uber and Lyft in the US, two-third drivers drove for both the apps.
To increase loyalty to a single app, these companies are required to provide more incentives to drivers. Driver incentives are, therefore, an inherent feature of the economics although the extent/size of driver incentives will vary based on several factors such as competitive dynamics in a particular market.
Moreover, a 2015-16 study conducted by Stanford University and Uber found that 68% drivers stopped driving within six months of starting which indicates the high churn rate of drivers in ridesharing apps. Some reports even suggested only ~4% drivers remain on the platform after a year. There have been multiple studies that showed how little drivers end up earning after accounting for all the costs (fuel, depreciation, insurance costs etc.). See here, and here.
Imagine if Uber/Lyft pursues to grab a higher take rates and decrease driver total earnings by reducing incentives, the potential press coverage and regulatory headwinds may exponentially increase. It is ironic in a sense how much negative press coverage Uber receives despite being such a deeply loss-making company.
However, in pursuit of profitability, ridesharing apps are trying to rationalize some of these incentives. In future, rationalization of driver incentives is likely to happen, but the question remains to what extent the pie will and can shift from driver to Uber.
Considering Uber's geographical concentration of revenue mix e.g. five cities contributes quarter of the gross bookings, punitive regulation in selective top Gross Bookings generating cities can make life challenging for Uber to drive attractive margins. While regulatory surcharges are passed onto consumers, these added costs enhance the lack of economic competitiveness of Uber rides against other potential alternatives such as Public transit/car ownership. Such headwinds can also make it difficult for Uber to go beyond affluent, young demographics and expand use cases.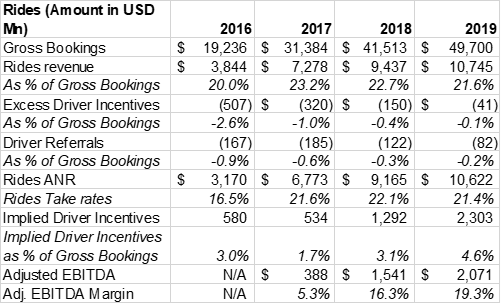 It is encouraging to see the adjusted EBITDA margin has increased from ~5% in 2017 to ~20% in 2019. Uber's long-term adjusted EBITDA margin target for Rides segment is 45%. Uber does not disclose more granular segment level income statements, so it is not easy to untangle this. There are plenty of adjustments that Uber makes to come to this number which I will delve into later while discussing valuation. Unlike many investors, I did not value Uber based on sum-of-the-parts (SOTP) method considering the lack of disclosure.
Eats Economics
Let's run through an Eats order to understand the economics of Uber Eats.
So you open the app, and order Hamburger, some fries, and a drink. Based on the menu prices let's assume these things cost you $15. This $15 is the "Subtotal", on which tax is applied. You pay 15% service fee on the Subtotal, and you pay delivery fees based on the location of the restaurant. Overall, the consumer pays the menu prices, taxes, service fees, delivery fees, and if he/she receives a promo code, he/she receives some discount. Once the customer orders through the app, we have three parties involved in the other side of the transaction: the restaurant, the driver, and Uber.
The restaurant typically receives ~75% of the subtotal. This can vary based on many factors such as whether the restaurant has its own delivery person, whether the restaurant exclusively uses Uber Eats for delivery, and whether it is a chain restaurant.
For example, Uber Eats and McDonalds used to have an exclusive deal which ended in 2019. Uber in its S-1 mentioned "we charge a lower service fee to certain of our largest chain restaurant partners on our Uber Eats offering to grow the number of Uber Eats consumers, which may at times result in a negative take rate with respect to those transactions after considering amounts collected from consumers and paid to Drivers." (emphasis mine)
Uber typically takes ~25% of the subtotal which gets recorded as revenue.
The driver gets a fixed pick up fee, and a fare based on time and distance just like Rides. In many cases, driver earnings may exceed service fees and delivery fees collected from the customer. Uber may, therefore, provide extra incentives so that the delivery makes more economic sense for drivers. Any tips provided by customers will also go to drivers. Customers are much more likely to tip the driver for food delivery than for Rides.
Here is a simplified illustrative Uber Eats order, how the pie gets distributed among everyone, and how it impacts Uber's income statement.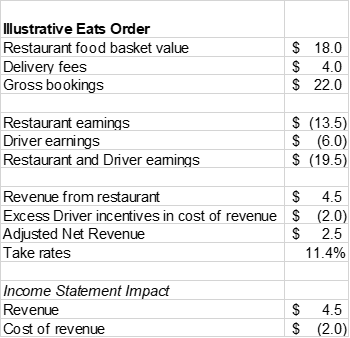 Although by integrating more mobility/delivery options Uber increases the liquidity within the platform that helps decrease deadhead miles, especially in suburb, food delivery nonetheless can be an inefficient process at times. I saw the entire delivery process described in a forum by a driver in the following way:
You see the request comes up -> You accept -> You drive to the restaurant ->You find a parking spot ->You walk inside the restaurant ->You wait until the hostess can approach you ->You wait until the food comes out ->You walk back to the car ->You drive to your destination (The time you make money) ->You arrive and then look for a parking spot ->You walk to the address ->You knock and wait at the door ->You hand over the food.
When you see the flow chart, you realize it is significantly more cumbersome than Rides and can potentially introduce more surprises/delays than Rides. It can also be tricky to drive both for Rides and Eats as delivering food can make the vehicle smelly and Rides customer may leave a less than perfect rating for the driver.
Looking at Uber Eats' numbers in last three years, it is clear that the Uber is trying to develop the local network effects that they have developed in Rides and they used their income statement to finance these investments. Uber CEO mentioned in the recent call, "At a roughly $30 billion annual gross bookings run rate at the end of Q2, delivery business alone is now as big as our Rides business was when I joined the company in 2017. We've essentially built a second Uber in under 3 years".
The scale is certainly impressive, but it did come at a cost. Excess Driver Incentives remained consistently 7-8% of Gross Bookings which was just 10 bps for Rides. This may be expected to come down but to what extent it can come down remains a thorny question. Given the flow chart of steps for delivery from drivers' perspective, at least some portion of incentives can become a permanent theme in the business model.
Moreover, Uber Eats' economics will improve further if it can diversify its bookings mix away from restaurant chains since chains can have more leverage over Uber. The more local restaurants Uber can have, the better its economics will be with higher take rates.
Then again, many restaurants question the economics of these delivery deals and many wonder whether they make money at all. Even worse, restaurants wonder whether they are diverting potentially profitable orders away from their stores and encouraging consumer behavior that may cannibalize both short term and long-term revenues and profits.
How these questions will be settled remains to be seen and the jury is still out there to what extent Uber can increase its take rates as both drivers and restaurants are not overly enthusiastic with the status quo to begin with. While Uber Eats' 2019 take rates was 9.5%, their long-term target is 15% which does seem to be quite ambitious given the current dynamics with the other players: Drivers and Restaurants.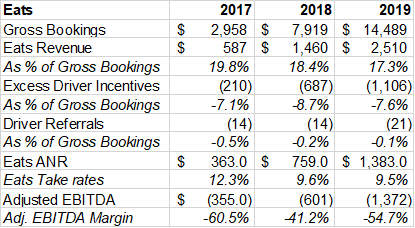 Path to profitability and Valuation
Uber management in recent calls mentioned its target to achieve "quarterly adjusted profitability sometime in 2021". I could not figure out whether this means "adjusted EBITDA profitability" for the whole company or "adjusted EBITDA profitability" for the core platform (Rides + Eats) which excludes the impact of other bets (Freight, New mobility, ATG etc.).
If it were core platform adjusted EBITDA profitability, it is important to note that core platform adjusted EBITDA not only excludes other bets losses (which was $750 mn in 2019), but also excludes Corporate G&A and Platform R&D (which was $2.5 Bn in 2019). Even if it were companywide adjusted EBITDA profitability, it does not include the impact of Stock-Based Compensation (SBC) and legal & regulatory settlements (which I think will be recurring expense in Uber's case). Therefore, this focus on adjusted EBITDA is mostly misplaced and does not provide much meaningful contribution to the conversation.
Uber is ~$50 bn market cap company. I hardly care which quarter or year they will reach profitability. I am much more interested in how profitable it can possibly be in the long run. Given the current market cap, market certainly expects Uber to be profitable at some point, and I was very interested in figuring out what assumptions I need to make to generate a "decent" IRR on an investment in Uber.
So what is a "decent" IRR in a ZIRP world?
While I have no idea on the direction of the interest rate or whether low interest rate is a permanent theme in the developed world, I want to lean onto the corporate bond market to get a sense of the required return I should ask on an equity investment in Uber.
Uber has a 2027 Senior Unsecured Bond outstanding whose current Yield-to-Worst (YTW) is ~6.7%. Given shareholders are at the bottom of the capital structure waterfall, I know for certain I need some premium over 2027 bond YTW. Let's just say we want ~300 bps premium for taking higher risk by investing in the equity than investing in the long-term bond.
To generate ~9.7% IRR from current price, I needed to make a number of assumptions. You can access a more detailed financial model of Uber in the "Financial Models" tab of the website, but for the sake of the flow in the write up, I have condensed my model in the table below. You can download the excel model and change assumptions as you see fit to build your own narrative. Please note my objective was to build the model in a way that will lead to 9.7% IRR rather than explicitly forecasting these numbers with my own views. I will discuss the reasonableness of these assumptions below.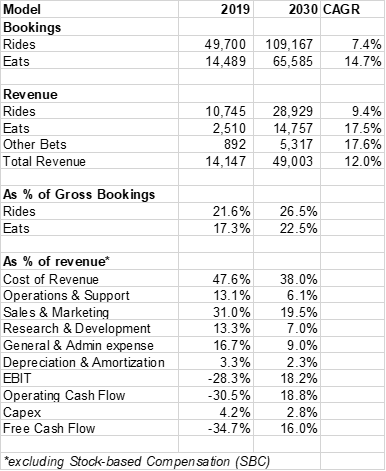 Before discussing the reasonableness of these assumptions, let me share my process to get to the IRR number.
Once I have three statements, I have Operating Cash Flow (OCF) from Cash Flow Statement. I deduct both Capex and Stock-Based Compensation (SBC) adjusted for taxes from OCF to get to Free Cash Flow (FCF).
Yes, I do want to deduct SBC as that is certainly a real expense. SBC is arguably more appropriate in Cash flow from financing than CFO.
I even incorporated significant buyback activity in the back end of this decade which enhanced FCF/share. Finally, I needed to slap 25x multiple on FCF/share to generate 9.7% IRR.
Multiples are, of course, just shorthand for valuation and whether we like it or not, both macro factors such as interest rates, risk premium, and idiosyncratic factors such as sustainability of moats are embedded in there. Feel free to use higher or lower multiple. I will also comment on the reasonableness of 25x FCF multiple below.
It is important to note that there are many ways to reach to 9.7% IRR. It is possible Uber will have faster topline growth but lower margin expansion than I assumed. So instead of taking my "expectations investing" as gospel, you can use completely different sets of assumptions to reach 9.7% IRR and then eyeball the assumptions to ask yourself: how reasonable is this? At least, that's the process I followed while looking at Uber.

Reasonableness of the expectations
Bookings growth: It is likely that Uber bulls are more optimistic on Rides booking growth than I assumed. I did assume return to normalcy in 2021 for Rides but still not to the level of 2019. I assumed faster reversion to mean as I do think Rides will find it difficult to grow beyond current use cases.
For Eats, the segment received massive boost during Covid-19 and if we assume return to normalcy, Eats will obviously find it challenging to keep the momentum going as consumers may choose to go out more often. Even though I assumed ~33% Eats booking growth in 2021, much of this growth is assumed due to Postmates acquisition which currently has ~$3 Bn run rate of Gross Bookings. So effectively, I'm assuming ~20% organic bookings growth in 2021 which may prove challenging given the growth pull forward during Covid-19 and uncertainty of how much of current consumer behavior persists beyond the pandemic. Since Uber's international markets are expected to grow faster than US, unit $ value is assumed to decrease.
As Uber wants to focus on profitability, I believe Uber will take a more deliberate approach on Eats growth and may rationalize some of the driver incentives program. Therefore, despite a pretty large TAM in eats, challenging economics (discussed earlier) and focus on profitability will lead to deceleration of Eats booking growth.

Revenue as % of Gross Bookings: I just want to emphasize first that this is NOT take rates. You need to deduct driver referrals and incentives to calculate take rates. However, increasing revenue as % of gross bookings is tantamount to increasing take rates.
Expanding take rates by ~500 bps may prove to be a monumental task considering the competitive dynamics and industry context. While Uber has industry leading position in most markets of the world, market share differences between the top two players can play a crucial role in setting the tone of the competitive dynamics. Even though most delivery/ride market can be duopoly/oligopoly, market share among top two/three players can be close enough to keep the market extremely competitive.
In any case, given the dizzying amount of regulatory concerns that has arisen even from current take rates, expansion of ~500 bps may lead to further incitement of such concerns.

Cost structure of the business
As you can see below, Uber is expected to leverage its cost structure going forward and significantly improve and manage its costs in every single line item in the Income Statement. One reason why it might be challenging to improve the cost structure significantly is the business does not have significant fixed costs, so the operating leverage may prove to be less than market currently expects.
Uber in its recent earnings call clearly indicated this, "More than 2/3 of our cost of revenue and OpEx, excluding stock-based comp, are not fixed. So simply, if the trip doesn't happen, most of the costs don't."
Therefore, it's the variable cost structure that needs to be altered to reach and improve profitability of Uber.
Cost of revenue: Cost of revenue is ~50% of Uber's net revenue.
So what are the components of these costs? ~60% of the total cost of revenue is insurance costs. When the Uber app is turned on, a low level of liability insurance becomes active. When a trip is accepted, a higher level of coverage kicks in and remains active until the passenger exits the vehicle. The insurance is typically applicable for driver, rider, and the vehicle.
Although Uber has captive insurance subsidiary, it primarily buys insurance from third-party carriers. Given the relatively lack of robust data, the cost of insurance for Uber/Lyft is really uncertain. It takes decades of data to evaluate likelihood of certain outcomes and price insurance accordingly. When such data is unavailable, insurers are either not eager to underwrite the risk or only do so at exorbitant price.
Will Uber just expand its insurance subsidiary to self-insure?
Curtis Scott, Global Head of Insurance at Uber, says otherwise, "I can tell you that Uber doesn't have a desire to. We are good at being a tech company that's in logistics and we want to do that. That's what we're strong at. Insurance companies are good at being insurance companies and that's hard to do."
Looking at the cash flow statement, Uber's insurance reserve seems consistently higher than payout. However, Uber may not provide insurance for all the parties (riders, drivers, and vehicles) in all the markets it operates. During the due diligence process, I confirmed at least one market in which Uber operates but does not provide insurance coverage for the vehicle during the trip. Such aggressive policies can help the company post some quarterly profits but may be extremely risky in the long run, especially if these uneven policies are highlighted by media and noticed by regulatory bodies in different markets.
Uber's policies can be prone to be lax outside of the developed world where the media scrutiny is perhaps not as stringent as it is in the developed market. Overall, it is difficult to ascertain to what extent Uber can leverage its industry leading position to negotiate insurance pricing with the carriers.
To play devil's advocate, although 10% gross margin expansion may seem significant, cost of revenue per trip was not assumed to improve a lot. In 2030, it's assumed $1.08/trip which is what it exactly was in 2018. If Uber can manage insurance cost at current level, the math may still work out.
But if with more data carriers want to increase pricing for ridesharing insurance products, this margin expansion assumption may turn out to be too optimistic. With increasing penetration and higher market share, more miles will be driven on Uber in future and more accidents are likely to happen. Such dynamics can, therefore, end up increasing Uber's insurance cost per mile.
The other two primary components of cost of revenues are payment processing costs and excess driver incentives. While excess driver incentives may be expected to come down with time, payment processing costs (~20% of total cost of revenue) may increase a similar rate with revenue as it's typically charged ~2% of bookings.
Operations and Support: Operations and Support (O&S) primarily includes costs such as driver background checks. Given the high churn of drivers discussed earlier, this cost may not decrease significantly. However, as Uber finishes its expansion to new cities, they might be able to rationalize this expense to an extent.
Sales and Marketing: Sales and Marketing (S&M) expense has been ~30% of revenue. This primarily consists of driver incentives and other branding initiatives. This is a major expense item which has to go down from ~30% of revenue to ~20% of revenue for Uber to reach closer to its desired level of profitability. As discussed in earlier sections, driver incentives may have become an inherent aspect of the business model, especially for Eats and to what extent it can be decreased remains an open question.
Research and Development (R&D): ~30% of Uber's R&D expense is spent on ATG i.e. Autonomous Vehicle (AV) unit, and the rest is spent on all other research and development expenses. If AV is the future, can Uber afford clamp down on these investments? Ideally, they should ramp up more aggressively to compete against players with deep pockets such as Waymo.
I know many people think AV is the bull case for Uber as drivers enjoy the supermajority of the bookings pie in the current business model. I actually think it to be quite the opposite. Uber's bull case is perhaps the current business model (despite the shortcomings) and AV is the bear case, not the bull case. I have four reasons for such belief which I outline below:
First, although there is a lot of uncertainty around the timeline and viability around AV technology, a number of players have been actively involved to come up with a breakthrough. In fact, $16 Bn was spent by 30 companies in last few years. Waymo, a Google subsidiary, spent the highest $3 Bn among all the companies followed by Cruise (GM subsidiary) and Uber. There is certainly more than 50% chance that someone else other than Uber will build a better AV technology and Uber may even have to license the tech from Waymo to remain competitive in the AV front. If that happens, we have no clue how the economics of such licensing will shape up. Is it likely that Waymo would price such proprietary tech at a price that allows Uber to generate outsized profitability such as ~45% adjusted EBITDA margin as suggested by Uber management as long-term profitability target at Rides? I don't think so. Given how much money Google loses on "other bets" every year, they might and should ensure the economic scale leans firmly to their favor.
Second, ridesharing/food delivery has low barrier to entry but high barrier to success. The technology behind these businesses are far from rocket science but the local network you have to build in market after market for both consumers and drivers implies a certainty of significant capital commitment with uncertain gain in the future. Once AV is available and drivers are out of the picture, a new entrant just has to develop local network effects among consumers. The capital commitment required will fall in such a scenario. If Uber can license it from Waymo, the existing competitors and potential new entrants can do that as well. The company with the proprietary tech will enjoy the outsized profit, not the players who just created a network with discounts and promo codes.
Third, it is possible that Waymo will just patent its proprietary tech and will not license to anyone else once it receives the approval from the regulator. Waymo's relationship with Uber is far from cordial. Moreover, as of 2Q'2020 Google has ~$106 Bn net cash in its balance sheet. I am sure they can invest a few billions to create a consumer network to create a self-driving ridehailing app once AV becomes prevalent. There is perhaps not much merit to license such proprietary tech to other firms when you can enjoy an even greater share of economic profit yourself by entering the ridehailing market.
And finally, even though I don't think AV is going to reach developing countries of the world anytime soon, even if AV is feasible in few major cities a few years from now, that might be enough to wreck Uber's profitability. Even if AV is available in five major cities such as NYC, Chicago, LA, SF, and London which contributed ~25% of Gross Booking and certainly contributed an even higher percentage to overall "adjusted EBITDA" for Rides, Uber will go through a pretty difficult period in coping up with such challenge.
The good news for Uber bulls? Level 4 and 5 AV may not happen anytime soon. The fact that Bill Gurley, early Uber investor and former board member, retweeted this piece highlighting AV is many years away also indicates to me that he doesn't think AV is the bull case for Uber.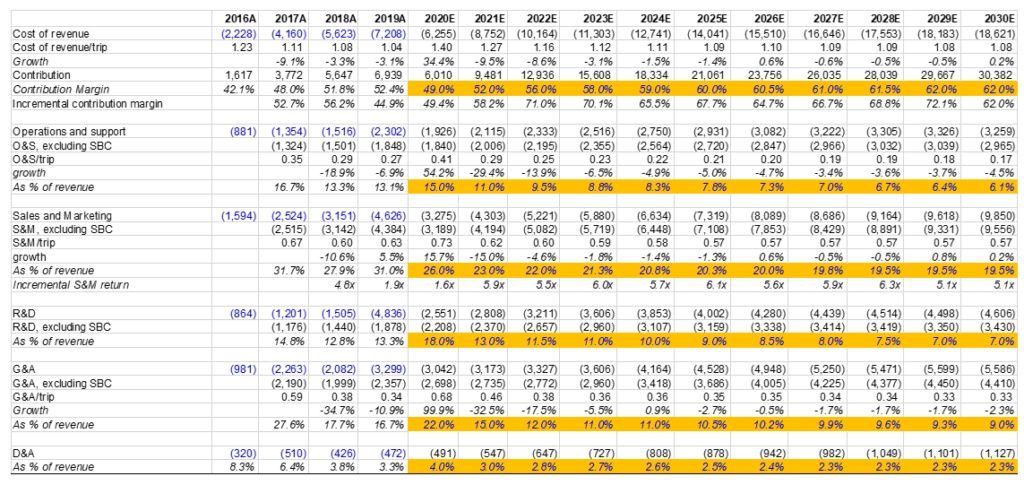 Considering how much profitability is embedded in the current stock prices, it is simply disappointing to see how little profitability is tied to management's performance based RSUs. In 2019, Gross Bookings, Core Platform Contribution, and Adjusted EBITDA (again, not a fan) each contributed only 8.33% to performance based RSU. Diversity & Inclusion metrics itself contributes 25% to the measure and Uber does not disclose the rest of the performance measure related metrics. Ideally, Uber shareholders at this point should want to see greater mix of compensation tied to company's profitability measures.

So What about the multiple? Is 25x FCF multiple too high for Uber in 2030?
It truly depends on numerous factors. If Uber remains the clear market leader in Rides/Eats with profitability question behind its back and it comes up with its own AV solution, 25x may not be high after all in such a scenario, especially if low interest rate persists a decade from now. But as you can probably guess by now, I am not thrilled at Uber's prospect of solving the economics question, and the questions of AV can be a long-term overhang on the company.
I want to emphasize one thing again: the key debate is not whether Uber can reach profitability or when it will do so. The key debate is how profitable it can be in the long-term.
My reverse DCF model shows 20.5% adjusted EBITDA margin (EBITDA+SBC as % of revenue) in 2030. For context, last year's adjusted EBITDA margin was -19.3%. So we are basically assuming ~40 percentage points EBITDA margin expansion in next 10 years. On top of that, you need ~25x FCF multiple to generate ~9.7% IRR. It is difficult to say the bar is low for Uber.
The risk-reward ratio is just not compelling enough. Even though it's ~25% down from its IPO price, the stock still has to cross some pretty high bars to generate a decent return for long-term shareholders.
Uber does have some optionality though. It has ~$10 Bn minority equity investments in various parts of the world in mostly other ridesharing companies. I have made some simplifying assumptions in the model to ensure their potential is being accounted in the numbers. I don't think market is generally eager for SOTP valuation, and almost all of the return for Uber shareholders will perhaps be generated by Uber's own business, not from its value of the investments.
The other possible optionality that I see is its recent ad business in Eats platform. If it indeed becomes wildly successful with compelling economics, such potential is not accounted for in the current model. This is something I would be curious to learn more about in upcoming earnings calls.
I would, however, caution that Uber, unlike other big tech, doesn't have a funding machine such as Search for Google, IG/Big Blue for Facebook, or Prime/AWS for Amazon. Uber's core business is very much in question which really narrows its capacity to capitalize on its optionality.
I know I haven't even touched on AB 5  saga yet. Whether Uber/Lyft drivers will have an exception to the bill will be decided on the ballot in November. Given that it will be decided on the ballot box, I don't want to spend too much time on merits (or lack of) of AB 5 bill. But if it does not lead to the desired outcome for Uber, it makes the economics of Uber even less compelling than it already is.
Although it is currently only happening in California, it is certainly being closely followed by other major cities, and many will perhaps take similar measures if Uber/Lyft in California ends up recognizing drivers as employees instead of independent contractors. If that happens, the profitability path will be far more challenging.
Beyond this known risk, there are unknown risks as well. I know the investors' appetite for cash burn in ridesharing/food delivery market has waned, especially during the uncertainty of Covid-19. But if things do go back to normal, the risk appetite may come back in a ZIRP world especially if Uber's competitors see the outsized profit opportunity Uber may enjoy in a less competitive market. If cash burn comes back with more promo code/discount and driver incentives, is it really possible for Uber just to sit back and watch? There is pretty high probability that Uber will respond, and this chicken and egg game can continue for a long time before AV comes into the scene. And when AV finally arrives here, Uber may not be the winner as I have outlined before.
Overall, the risk-reward ratio seems far from compelling. However, it does not mean Uber has no path whatsoever to maintain and consolidate market leadership and make this company highly profitable.
It's just that the uber uncertainty of Uber economics overwhelms my desire for comfort as a long-term shareholder, and hence I will pass.
Please feel free to share your opinion and leave feedback. Since I have just started "MBI Deep Dives", I would seriously appreciate if you can share this piece with people who you think might be interested in my service.
Subscribe here for next month's deep dive. After November 15, the future deep dives will be available for subscribers only. Thank you for your support.
Further recommended readings/links on Uber
1. Uber bull pitch (Value Investors Club)
2. Yet Another Value Blog podcast with Mario Cibelli (Bullish on Uber)
3. Follow-up on Uber

Earnings Updates
3Q'2020

Podcast
I appeared on Value Hive podcast to discuss Uber. You can listen to it here.
Disclaimer: All posts on "MBI Deep Dives" are for informational purposes only. This is not a recommendation to buy or sell securities discussed. Please do your own work before investing your money.